This post may contain affiliate links which won't change your price but will share some commission.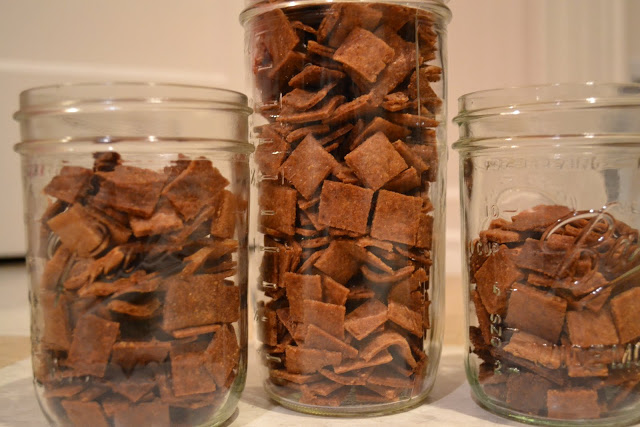 We used to eat cereal every day for breakfast. It's been over a year since we stopped doing that, but every once in a while Justin still would like a bowl. But I can't justify buying cereal knowing how bad it is for you and what a rip off it is. So I did a little brainstorming. And yesterday I made a new batch of graham crackers. But I used part of the dough to try making homemade golden grahams. I used the same recipe. I just rolled it out much thinner. Then I added a little sprinkle of cinnamon and sugar on top and cut it into small squares.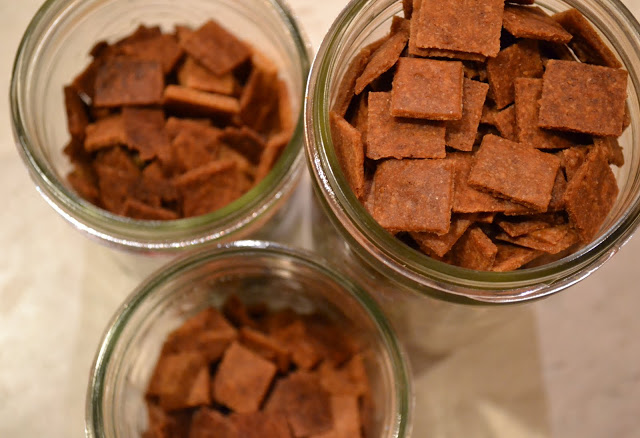 Did it work? I think so. Not sure if they are more like golden grahams or cinnamon toast crunch, though. Either way they taste good. Justin tried them this morning with milk. He likes the flavor. The down side is that I was baking them with the regular grahams. So I couldn't leave them in the oven to crisp up (grahams were still baking) else they would have burned. So they didn't get as crunchy as I would have liked. Aside from that they do look and taste like cereal 🙂  I'll have to make another batch that I can leave in the oven long enough to crisp. A great, healthy way to get your cereal fix. Even if we don't use the rest of this batch as cereal it makes a great snack for little ones. Great finger food.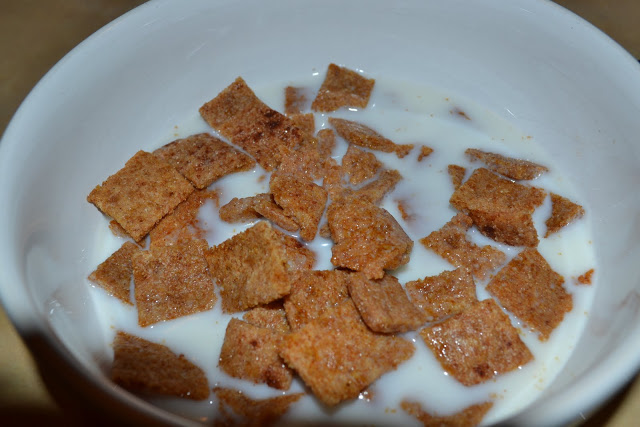 12/5/12 – I updated the recipe this week after making a new batch. It got two thumbs up from the whole family (even our little guy that doesn't normally like sweet stuff)! Do you miss having a bowl of cereal once in a while? Try some homemade golden grahams. Crunchy, sweet, delicious!! Eat them plain, mixed in yogurt or with milk. So good.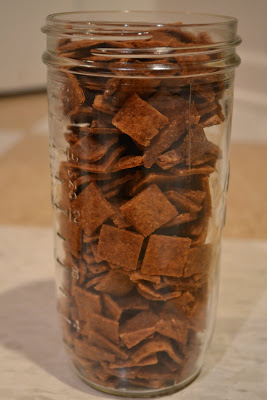 Homemade Golden Grahams
2 cups whole wheat flour (or a combination of organic whole wheat and all purpose)
1/2 cup rapadura (dehydrated cane sugar) or brown cane sugar
1/2 tsp. salt
1/4 tsp. cinnamon (optional)
1/2 tsp. vanilla
6 Tbsp. honey (sometimes I substitute molasses for some of the honey to give extra graham flavor)
1/2 cup butter, coconut oil or a combo of both, melted (butter works best for golden grahams to give the crunch; coconut oil works best for cinnamon toast crunch to get the lighter/crispier texture)
cinnamon and sugar for sprinkling on top (optional…if you want it more like cinnamon toast crunch)
Heat oven to 350. Melt butter/coconut oil in sauce pan. Set aside. In a mixing bowl, stir together the flour, sugar, salt and cinnamon. Add the liquids: honey, vanilla and butter. Stir well until a nice ball of dough is formed – not crumbly (if too dry add more honey or butter/oil).
Split dough into 3 equal parts. Cut 4 pieces of parchment paper the size of a cookie sheet. Lay one piece on table. Put 1/3 of dough on the paper. Lay a 2nd piece of parchment on top of dough. Squish the dough down a little with your hand. Use a rolling pin to roll the dough between the parchment paper. Roll the dough until it is very thin (1/16th" or so). Remove the top piece of parchment paper.
Sprinkle cinnamon and sugar on top. Put parchment paper back down. Roll over lightly to press cinnamon in – if making cinnamon toast crunch.
Cut into small squares (with pizza cutter). Place on a baking sheet (on the parchment paper…just move the whole thing onto the baking sheet). Repeat for rest of dough.
Bake for 8 minutes*. Turn the oven off, but leave the cereal in to get crisp. Remove after 5-10 min. Let cool completely. Store in airtight container or in the freezer.
*The cereal should be baked on the top oven rack. It works best to do one pan at a time to avoid burning.