This post may contain affiliate links which won't change your price but will share some commission.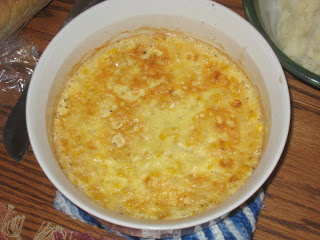 This is a recipe that I got from my MIL. It is served at many family gatherings and is always a favorite. I made it with our Thanksgiving dinner. Easy and delicious 🙂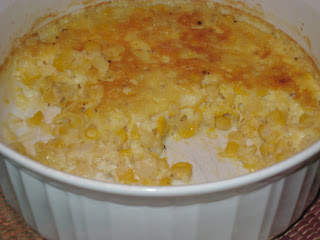 Corn Custard Pudding Casserole
1 pkg. frozen corn, cooked until separated (this refers to a home-frozen pkg…maybe 2 cups or so?, I never cook it. I just let it thaw a bit)
1 cup milk
1 Tbsp. butter, melted (not sure how necessary this is…I should try it without sometime)
2 tsp. sugar
1/2 tsp. salt
dash pepper
1 egg, beaten
Beat egg in bowl. Add corn, milk, butter, sugar, salt and pepper. Stir to combine well. Pour into greased 1 1/2 qt. casserole. Place in a pan of hot water. Bake for 1 1/4 hours at 350, until set.
*I totally forgot about the pan of hot water yesterday and it worked just fine.
*I baked it at 325 for about 1 1/2 hours (that was the temp for the turkey:).