This post may contain affiliate links which won't change your price but will share some commission.
When it comes to replacing store-bought snacks with homemade it doesn't get much easier than granola bars. These baked chewy granola bars come together in minutes. The hardest part is waiting for them to bake!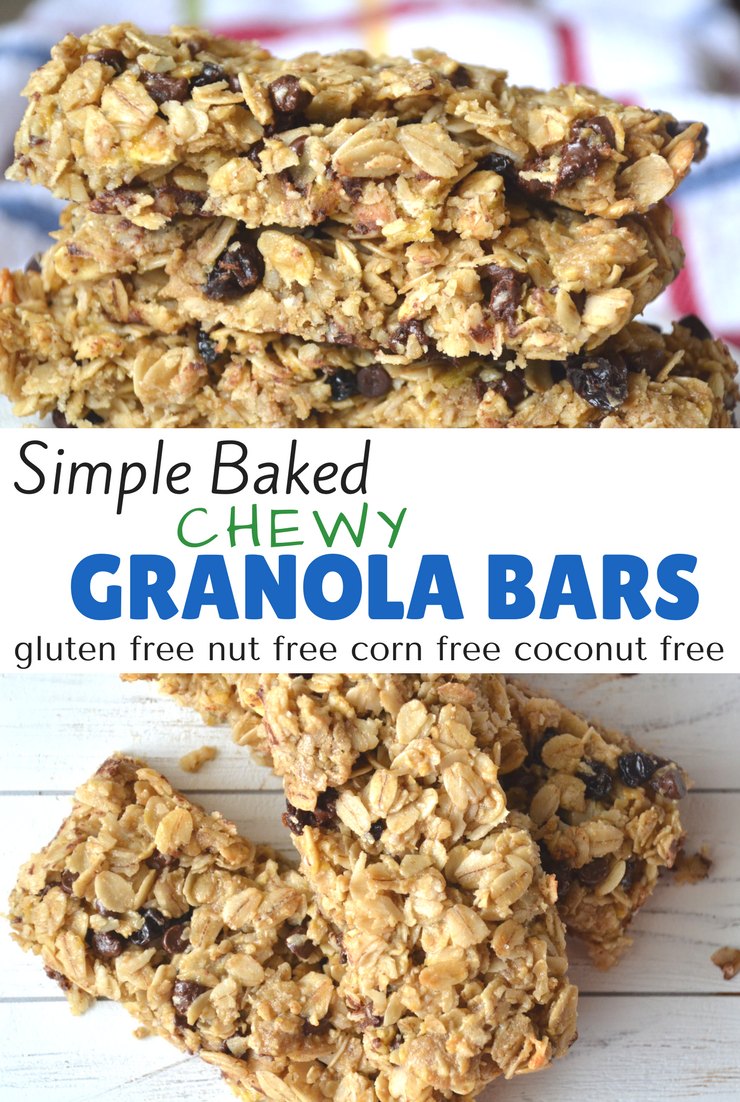 I always have
homemade granola bars
on hand in the freezer. They are easy to make and taste great. The only problem is that they don't hold up well unless they are refrigerated. So they are good at home…but
not so good for packing in a diaper bag, putting in a lunch, etc.
Allergen-Free Granola Bars
I decided to experiment a bit and make a new version of chewy granola bars. They are baked, they use sunbutter instead of nut butter, and they have eggs to help hold them together.
These granola bars turned out quite well. They are still chewy, but not as gooey as the no-bake bars. They would hold up well sitting out all day. I wish I had made these before our vacation.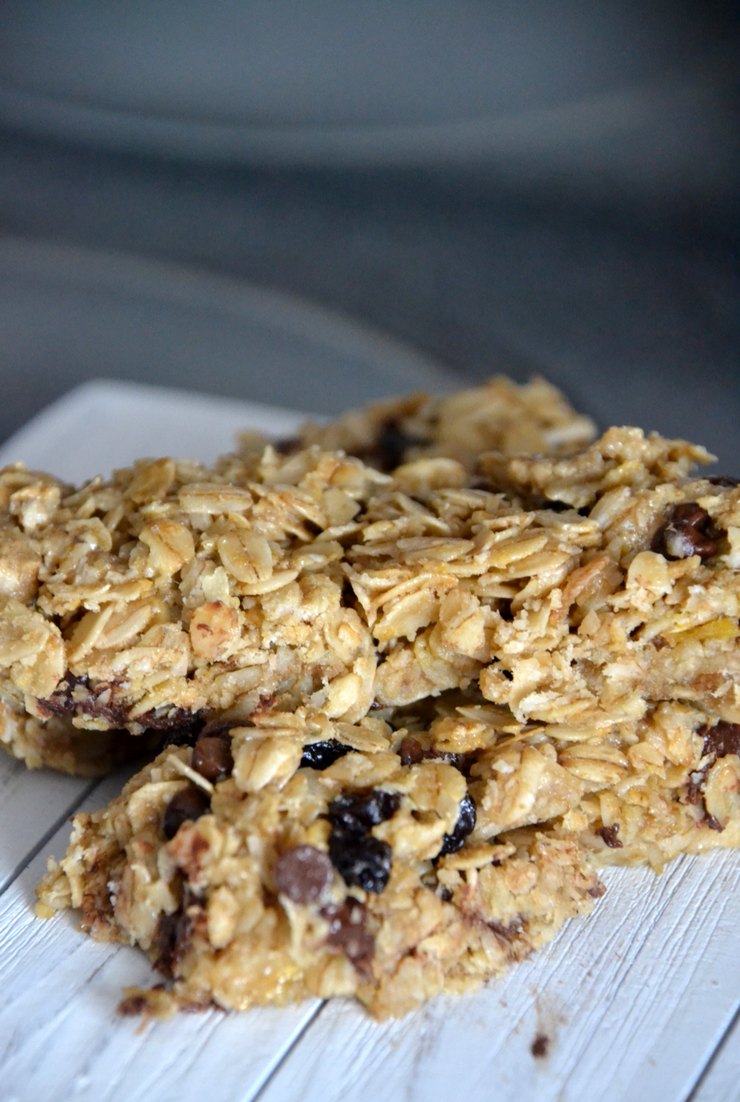 Homemade Chewy Granola Bars
I have seen recipes for other baked granola bars that don't use eggs, so if you can't have eggs you could definitely try these without. Just increase the honey and/or oil.
I'm usually a fan of rolled oats. But when it comes to granola bars quick oats actually hold up much better. Not to mention they are easier to eat for Intuitive Eaters. You can also another flour combined with oats (wheat, rice, etc.)
The other nice thing about these bars is that I was able to use chocolate chips in them…without the chips melting! A very versatile granola bar that holds up well and can be adapted to many special diets. I love them. My kids do too!!

Are Granola Bars Healthy?
As much as we like to think that granola bars are a healthy snack option – they usually are not. Especially when it comes to store-bought versions!
Even organic granola bars have some questionable ingredients, like agave, xanthan gum, palm oil, and natural flavors.
Besides the quality of ingredients, store-bought granola bars typically have a lot of sugar and very little protein or healthy fat. Which can lead to blood sugar issues (anybody else have a kid that gets HANGRY very easily?…blood sugar problems).
That's why I prefer to stick with homemade as often as I can. And since they are so easy to make and freeze so well it's not too hard! Homemade granola bars have eggs and sunbutter for protein and butter or coconut oil for healthy fat.
Then there is the added bonus that they taste better. My husband is always upset when we are out of homemade granola bars. He likes them so much better than store-bought.
Fun little fact – granola bars a product of the Chemical Revolution. They are derived from military inventions of the 1940's due to food rationing. Not exactly the place I'd look for a healthy snack.
Gluten-Free Granola Bars
By using gluten-free oats these granola bars are totally gluten-free. Although we don't have any wheat allergies, we choose to eat gluten-free for other reasons.
You'd be surprised how many packaged granola bars have wheat flour added. Making homemade granola bars is a great way to be sure you are avoiding allergens or reactive foods.
Are granola bars a go-to snack for your kids? Try switching to homemade!
Baked Chewy Granola Bars
Ingredients
4

cups

quick oats

1/2

cup

honey

1/2

cup

butter or coconut oil

melted

1/4

cup

sunbutter

2

eggs

(can be replaced with an extra 1/4 cup of honey and oil)

1

tsp.

cinnamon

optional

1

cup

mix-ins

dried coconut, raisins, dried fruit, chopped nuts, chocolate chips, seeds
Instructions
Melt coconut oil and/or butter. Let cool slightly.

Mix oats/flour, honey, oil, nut butter, eggs and cinnamon. The mixture should be quite moist. If it is not add more honey/oil. This is what binds the granola bars, so be sure all of the oats/flour are wet.

Pour mixture into a greased or parchment lined 9x13-in. pan.

Bake at 350 for about 20 minutes, until the edges just start to become golden.

Let cool for about 20 minutes.

Cut into bars (they will still be quite soft at this point) in the pan (do not remove).

Allow to cool/solidify completely in the pan for 1-2 hours.

Remove bars from pan and wrap individually. Store in the refrigerator for up to a week or in the freezer for up to a year.
Recipe Notes
You can replace some or all of the quick oats with rolled oats, ground oats, wheat flour, rice flour, buckwheat flour.