This post may contain affiliate links which won't change your price but will share some commission.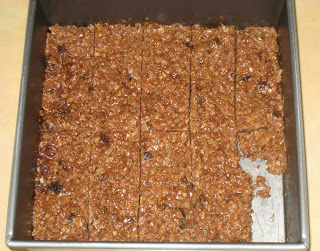 Last week I made crunchy granola bars and I was thinking I wanted to find a recipe for chewy granola bars. Wouldn't you know it Laura posted a recipe for some yesterday on Heavenly Homemakers 🙂  I thought I would try them sometime. Then yesterday morning Rebecca and I came home from shopping and she said "time to bake!" And she climbed into the booth at the breakfast knook (our baking spot). So I figured I'd give them a try already since they sounded so easy. They were soooo easy to make. Took less than 10 min. (prep…they take a couple hours in the fridge to finish). These are good, but a bit on the gooey side. If I make them again I'll have to modify things a bit. First, I used quick oats. I knew rolled oats would be better, but I was trying to be quick since Rebecca was ready to go. So I used the oats I had upstairs instead of having to go to the basement. I also used canola oil since that's what I had. I need to buy more coconut oil  And I think the ratio is a little off…there should be more oats or less liquid…maybe less peanut butter. I'm not sure. This is a good base recipe, but I'll have to experiment a bit. They remind me a lot of chocolate no bake cookies (I put some chocolate chips in mine). So they taste a little more like a cookie to me than a granola bar. Again, I'll have to experiment. I'm glad I tried them, though. And they do taste really good! Just a bit softer than I'd like. Ignore the missing piece in the pan. We tried them before taking a picture 🙂
**Edited 4/25/10 – I made another batch of these yesterday using rolled oats and coconut oil. So good!! And they hold together much better. I also used a combo of peanut butter and homemade cashew butter. The combo gives them a good flavor.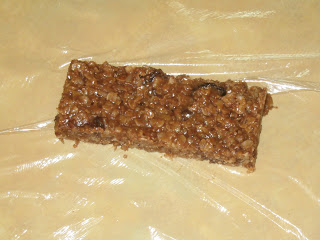 Chewy Granola Bars
1/2 cup peanut butter or sunbutter (I used natural peanut butter) (Edited 4/25/10 – I used a combo of pb and cashew butter…very good)
1/3 cup honey
1/4 cup coconut oil (or another oil of your choice)
1 cup oats (I think rolled oats work best…I used a little more than 1 cup) (These can be gluten free for some people…if you do ok with oats/if you use oats that are not cross-contaminated)
1 cup total of any combination of: sesame seeds, coconut flakes, sunflower seeds, dried fruit, mini chocolate chips (I used wheat germ, coconut, raisins, regular chocolate chips and a few homemade chocolate chips…most of the chocolate just melted again…I might add a bit more "extra" stuff next time.) (Edited 4/25/10 – in my 2nd attempt I added wheat germ, coconut, raisins and flax seed)
In a medium sized saucepan, melt together peanut butter, honey and coconut oil.
Remove from heat and add one cup of oats. Choose your favorite combination of coconut flakes, sesame seeds, sunflower seeds, dried fruit and mini chocolate chips, to equal a total of ONE CUP. (I just got out my one cup measuring cup and poured in the ingredients until the cup was full.) Pour in and stir well.
Spread mixture into a 8×8 or 9×4 pan.
Chill for two hours, then cut into bars.
Wrap in plastic wrap for a quick grab and go snack!