This post may contain affiliate links which won't change your price but will share some commission.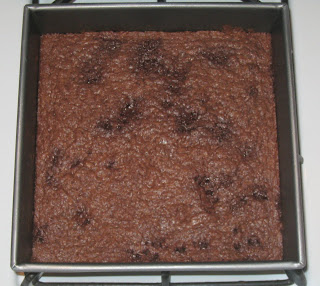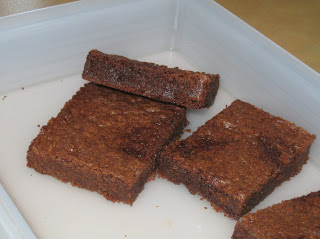 Yesterday afternoon Rebecca and I had some free time. And what do we usually do with free time? Bake! I wanted to make something with my homemade chocolate chips. I debated between a couple recipes but decided to try the chocolate chip brownie recipe from Heavenly Homemakers. It uses whole wheat flour and is so simple to make! No big mess. And we all love them. Although what's not to like about butter, sugar and chocolate? 🙂  This is seriously so simple. I had the batter in the pan before the oven was heated…even with Rebecca helping me. These taste great and are healthy…in relative terms…organic ingredients, all from scratch. That doesn't mean you can eat the whole pan, but they are far better than anything you can buy. They would make awesome brownie sundaes with our homemade ice cream and homemade chocolate sauce. Mmmm 🙂  The chocolate chips kind of melted. But you can still tell where they are. And they add a little extra burst of chocolate. I'm curious how they will work in cookies. This is a keeper recipe for sure. I think I'll have to double the recipe next time.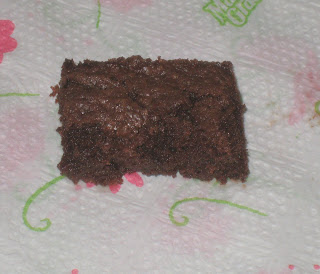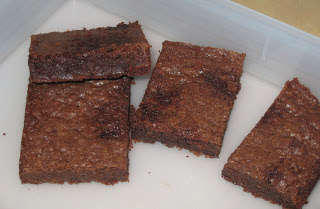 Chocolate Chip Brownies
1 stick butter, melted
1 cup rapadura
1/4 cup cocoa powder
1 egg
1 tsp. vanilla
3/4 cup whole wheat flour
1/2 cup homemade chocolate chips (chunks)
Stir together butter, rapadura and cocoa. Mix in egg and vanilla. Stir in flour and mix until combined. Fold in chocolate chips.
Pour into a 8×8 baking stone or pan. Bake at 350 degrees for 20 minutes, or until a toothpick inserted in the center comes out clean.