This post may contain affiliate links which won't change your price but will share some commission.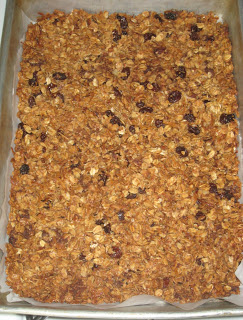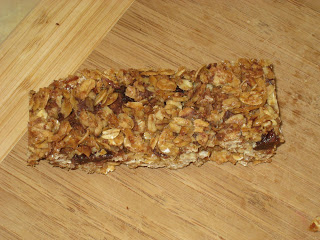 I got a new Barefoot Contessa cookbook (Back to Basics) for my birthday. I love it! I made my first recipe from it yesterday…granola bars. YUM!!! I've wanted to make granola bars for a long time, and there are so many different recipes out there. I figured I'd start with this one since I just got this cookbook. These are really easy to make and so good. They do have a lot of sugar…but I guess that's why they're so good 😛  When you first take them out of the oven they are super soft…you wonder how they will be granola bars. But after a few hours they are totally firm and crunchy. These are hard granola bars, not chewy. They were a little tough to cut without having them crumble too much. But the crumbs are so good too. This would also make awesome granola. If you just crumble it all instead of cutting bars. It tastes like the stuff you buy in the store…but without the HFCS, etc. I saved all of the crumbs to use in my cereal or mixed with yogurt. And to munch on by itself 🙂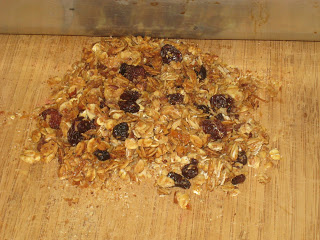 We all think these are awesome! I'll be making them again for sure. I got 15 granola bars out of this. I modified the recipe a little bit. Since I don't have an 8×12 pan I made a little bit more than the regular recipe and used a 9×13 pan. I also just used raisins for the fruit since that's what I have. And I added some of my homemade chocolate chips. As I figured the chocolate chips pretty much just melted. But it still tastes great. A little bit of a chocolatey bite here and there. Mmmm 🙂  In place of the sliced almonds I used some finely ground pecans. I didn't want big chunks of nuts for Rebecca's sake. This makes a great breakfast. And super easy! A homemade granola bar with some fresh fruit. Doesn't get much better than that. I kept a few out and froze the rest.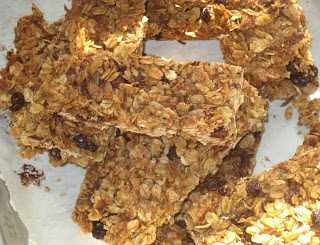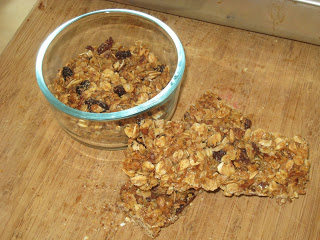 Granola Bar
2 cups old-fashioned oatmeal
1 cup sliced almonds (I used ground pecans.) (preferably soaked and dehydrated)
1 cup shredded coconut, loosely packed
1/2 cup toasted wheat germ (I didn't toast mine. Leave this out to be GF)
3 tablespoons unsalted butter
2/3 cup honey
1/4 cup light brown cane sugar, lightly packed or sucanat
1 1/2 teaspoons pure vanilla extract
1/4 teaspoon salt
1/2 cup chopped pitted dates (I used about a cup of raisins and a handful of chocolate chips. Any fruit, seed or chip would work.)
1/2 cup chopped dried apricots
1/2 cup dried cranberries
Preheat the oven to 350 degrees F. Butter an 8 by 12-inch baking dish and line it with parchment paper.
Toss the oatmeal, almonds, and coconut together on a sheet pan and bake for 10 to 12 minutes, stirring occasionally, until lightly browned. Transfer the mixture to a large mixing bowl and stir in the wheat germ.
Reduce the oven temperature to 300 degrees F.
Place the butter, honey, brown sugar, vanilla, and salt in a small saucepan and bring to a boil over medium heat. Cook and stir for a minute, then pour over the toasted oatmeal mixture. Add the dates, apricots, and cranberries and stir well.
Pour the mixture into the prepared pan. Wet your fingers and lightly press the mixture evenly into the pan (I just used the back of a wooden spoon…tried to pack it down well). Bake for 25 to 30 minutes, until light golden brown (I baked it for 30 min.). Cool for at least 2 to 3 hours before cutting into squares. Serve at room temperature.