This post may contain affiliate links which won't change your price but will share some commission.
It's blueberry season! Time for another blueberry recipe. Growing up my mom made blueberry buckle often when we had fresh blueberries.
This year I decided to recreate  her recipe in a gluten free form. This was absolutely delicious. I just finished the last little bit this morning. It didn't last long.
I prepared all of the ingredients in the evening. Then in the morning it only took minutes to get it in the oven for a warm breakfast.
Soaked gluten free grains and cooked fruit are quite easy on the gut. So it's a great way to start the day. Or you could serve it for dessert. Top it with a little ice cream. A wonderful treat.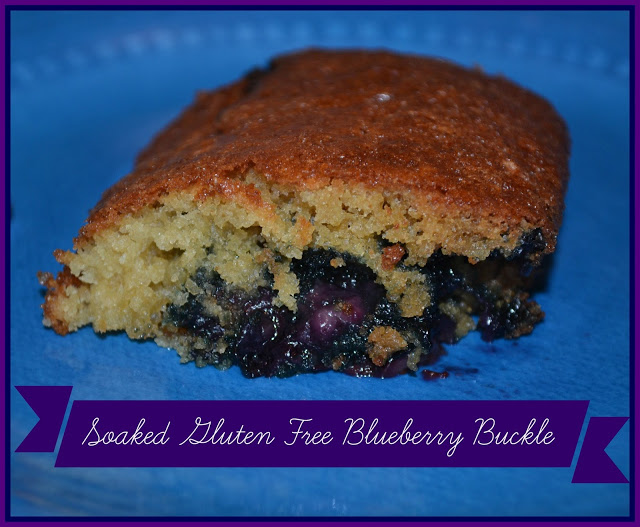 Soaked Gluten Free Blueberry Buckle
1/2 cup white rice flour*
1/2 cup tapioca flour*
1/2 cup amaranth flour*
1/2 cup soaking liquid (yogurt, kefir, buttermilk, milk + vineger or water + lemon juice)
3/4 cups organic cane sugar, sucanat or coconut sugar*
1/4 cup palm shortening* or butter, softened
1 egg
1 1/2 tsp. baking soda
1/2 tsp. sea salt*
1/4 tsp. cream of tartar (optional)
2 cups blueberries
1/2 cup organic cane sugar, sucanat or coconut sugar
1/3 cup tapioca flour
1/2 tsp. cinnamon
1/4 cup butter, softened (coconut oil or palm shortening would also work)
Combine the flours and soaking liquid. Cover and let soak 7-24 hours.
If desired combine the sugar, shortening, soda, salt and cream of tartar and combine the sugar, tapioca flour, cinnamon and butter. Cover and set aside until ready to bake.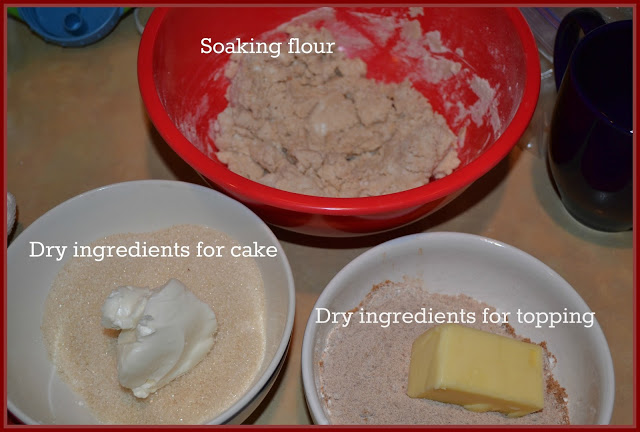 Heat the oven to 375 degrees F.
Add the sugar, shortening, egg, soda, salt and cream of tartar to the soaking mixture. Mix well until any lumps are removed, 1-2 minutes (a hand mixer or stand mixer works well for this). Fold in the blueberries.
Pour the batter into a greased 8×10 or 7×11 pan (a 9×13 pan will work, the cake will just be a little thinner).
Mix the sugar, flour, cinnamon and butter. Sprinkle over the batter.
Bake for 30 – 35 minutes.
*These are affiliate links. It will not change the cost for you if you buy through the link, but I will get a small commission. It helps me earn a small amount to keep putting in the time and effort to do what I do 🙂