This post may contain affiliate links which won't change your price but will share some commission.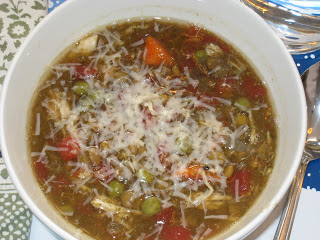 I tried a new Betty Crocker recipe today. I needed an easy crockpot meal…always do on Sundays. And I had some organic lentils that I bought a while back I've been wanting to try. It was really good! Justin and I both loved it. We got home from Flint late last night so I didn't have any time for prep. I just threw the chicken breasts in mostly frozen this morning. And I used peas instead of zucchini because I didn't have time to get the zucchini out of the basement freezer this morning. I added most of the tomatoes at the beginning so they would cook more. Justin doesn't like raw tomatoes. I didn't quite do a full batch and there was plenty for our lunch and a couple lunches for Justin this week. I'm hoping to use lentils more often. I love them, they cook quickly and they are a good substitute for meat. Rebecca tried a little of this. She seemed to like the flavor, but she wasn't very hungry.
Slow Cooker Italian Chicken Lentil Soup
1 lb boneless skinless chicken thighs (I used 2 breasts)
1 medium onion, chopped (1/2 cup) (I used organic red onion)
1 medium zucchini, chopped (2 cups) (I used frozen organic peas)
4 medium carrots, sliced (2 cups) (I used 1 large organic carrot)
1 cup dried lentils (8 oz), sorted, rinsed
4 1/2 cups chicken broth
1/2 teaspoon salt
1/4 teaspoon pepper
1 cup sliced fresh mushrooms (3 oz) (I didn't add these)
1 can (28 oz) diced tomatoes, undrained (I only used a half can since Justin doesn't like a ton of tomatoes)
1/4 cup chopped fresh or 1 tablespoon dried basil leaves (I left this out…forgot 🙂
Shredded Parmesan cheese, if desired (grated fresh parm over each bowl)
Remove fat from chicken. In 3 1/2- to 4-quart slow cooker, mix onion, zucchini, carrots, lentils, broth, salt and pepper. Add chicken. Cover; cook on Low heat setting 5 to 6 hours. Remove chicken from slow cooker. Use 2 forks to pull chicken into shreds. Return chicken to slow cooker. Stir in mushrooms and tomatoes. Cover; cook on low heat setting about 15 minutes or until thoroughly heated. Sprinkle with basil. Sprinkle with cheese.