This post may contain affiliate links which won't change your price but will share some commission.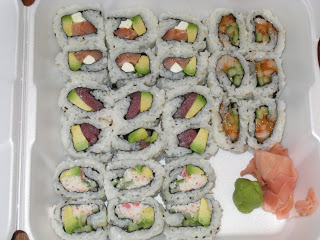 Yesterday was my birthday. I turned 29. I just can not believe I'm going on 30! Is that really possible?? Anyway, to celebrate we got take out sushi from Kobe Japanese Steakhouse. I haven't had sushi for over a year now. I've only ever had it a couple times, but I really like it! So this was my birthday meal choice. We tried 4 different rolls (we're not too adventurous with sushi yet :)…california (my favorite), philadephia, tuna and avocado and spicy yellow tail (neither of us was crazy about this one). There are a few pieces left for my dinner tonight (yum!).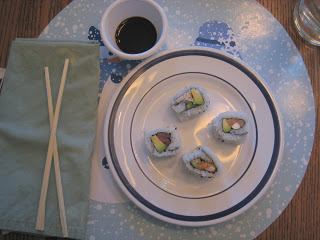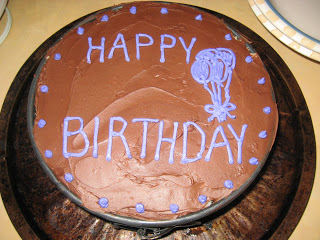 I also made an ice cream cake. This was not the prettiest cake. This was a "how can I use up a bunch of cake scraps?" cake.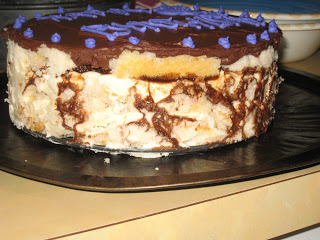 I used a springform pan and layered homemade white cake (scraps/chunks), vanilla ice cream, chocolate and caramel sauces (to use up stuff that's been in the fridge a while) and topped it with leftover chocolate frosting. And decorated it with leftover purple icing (both from the shower cakes I just made). It looked a bit messy. But it tasted soooo good! I'll have to try making a real ice cream cake some other time…when I actually bake the cake intentionally for it and not just have a mess of cake scraps. There are so many combos that would be good. Maybe I'll do chocolate cake and mint chocolate chip ice cream next time. Mmm. Sounds like a good summer project. I also want to try making a combo cheesecake/regular cake sometime. A few more items to add to my list of desserts/cakes.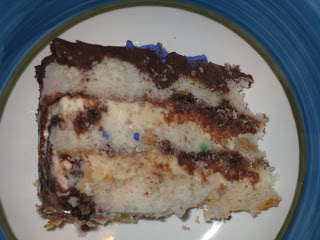 I got a food saver from Justin for my birthday. I guess that will go on my list of appliances I need to try 🙂 I'm sure it will be handy when we buy some meat in bulk and when we have to start freezing produce again.