This post may contain affiliate links which won't change your price but will share some commission.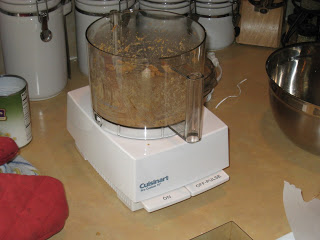 I tried a Semi-Homemade recipe last night for walnut burgers. I saw SL make them on tv and they sounded interesting…and meatless 🙂 Plus I had walnuts to use up. And I got to use my new food processor!!! I took a picture of the food processor…after I used it 😛 So it's a bit dirty. It worked great! I'm excited to use it more often. I just need to figure out where to put it now.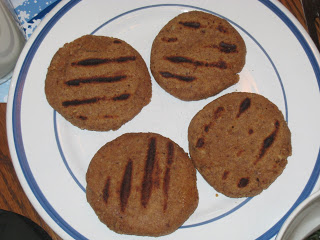 I thought the burgers were great!! I love meals with nuts and beans. I'll take that in place of meat just about any day. They were super easy to make. Came together in a few minutes (I prepped them ahead and put them in the fridge until dinner time.) and then cooked them in a grill pan for about 10 min. I topped mine with grilled onion, avocado, ketchup and honey mustard. Justin wasn't too thrilled about the burgers. He said he's willing to have the leftovers for another meal, but he'll have to dress his burger appropriately…plenty of cheese, mayo, ketchup, pickles, etc. 😛 They don't taste like a hamburger (I don't think they're supposed to). But they have good flavor. I used a barbeque grill seasoning. I think that really gave them a good flavor. I used some of my homemade whole wheat hamburger buns. Those are quite dense (using up the ones I made…hoping to make a new batch that turns out better). And the burgers are pretty dense (not super moist). So it was a hearty meal. I like the idea of making a burger out of other things. I'll have to experiment and try other recipes…see if I can come up with something that even Justin likes 🙂 I still have to try my SIL's recipe for lentil burgers. Maybe he'll like those better. But I'll definitely keep this recipe on file. I took a picture of the whole burger and with a bite taken so you can see the inside.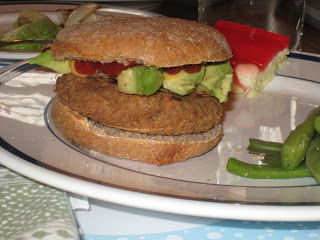 And I've adjusted my meal plans for the 3rd time this week so that we can use up the leftover burgers and jello. I had chickpeas left from the burgers that I put in a veggie cheese soup in the crockpot this morning. It's a total experiment (just throwing a bunch of stuff from the freezer and pantry together). We'll see how it turns out. I made a new batch of granola yesterday (added chopped walnuts, dried cranberries, cherries and raisins and sweetened it with pure maple syrup and agave nectar this time…can't wait to try it!). I baked 2 more cake layers yesterday and one this morning. Just one small chocolate layer to go tonight or tomorrow morning. Just found out yesterday we are closing on our house (refinancing) tomorrow afternoon, so that means less time to get stuff done…and another reason for meal adjustments (no time to cook this week). And now I have to go to Meijer today, else I won't have time until next Monday. The office is cleaned now. I'm making good progress on my weekly goals already. I think the cake is about the only thing left to finish.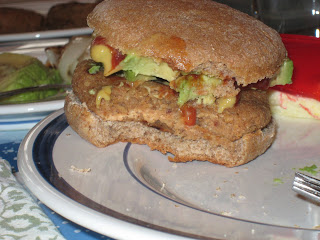 Drive-In Walnut Burgers
1 cup chopped walnuts
3/4 cup canned garbanzo beans, drained
1/3 cup plain dried bread crumbs
1 Tbsp. grill seasoning (recommended: McCormick)
1 tsp. smoked paprika (I left this out)
1/4 tsp. red pepper flakes (I left this out)
1 Tbsp. cider vinegar
1 Tbsp. olive oil
1 large egg
4 hamburger buns
Lettuce, tomato, avocado
Honey mustard
Set up grill for direct cooking over high heat. Oil grate when ready to start cooking. (I used a grill pan on the stove with a little EVOO in it.)
In a food processor, combine walnuts, garbanzo beans, bread crumbs, grill seasoning, paprika, pepper flakes, oil and vinegar and pulse until coarsely ground. In a small bowl whisk egg, add to food processor and pulse for 10 seconds, just enough to incorporate egg. Divide into 4 equal-size parts; roll into balls, and flatten with the palm of your hand into 3/4-inch-thick patties. Place burgers on oiled grill. Cook 4 minutes per side.
Serve hot on toasted buns with lettuce, tomato, avocado and honey mustard.