This post may contain affiliate links which won't change your price but will share some commission.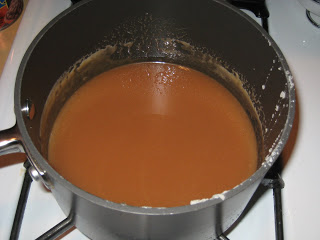 I made another Barefoot Contessa recipe this morning…caramel sauce. YUM! I tried it this morning…it was 6 am, but I HAD to try it…just a little lick. It's another recipe from my BC at Home cookbook. I've been wanting to try it for a while.
I've never made caramel before. It was actually pretty easy. But it took longer than her recipe says…at least it did for me. I'll post the original recipe and my timing. Her recipe is actually for caramel pecan sundaes. I want to try them…but with my sugar coated pecans instead of just plain pecans. Mmmm. Sounds good already.
It makes just enough to fill a pint jar. Perfect.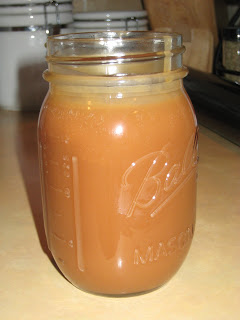 Caramel Sauce and Pecan Sundaes
serves 6
1 1/2 cups sugar
1 1/4 cups heavy cream
1/2 tsp. pure vanilla extract
butter pecan ice cream
vanilla ice cream
toasted pecans (I used sugar coated pecans)
Mix 1/3 cup water and the sugar in a medium heavy-bottomed saucepan. Cook, without stirring, over low heat for 5 to 10 minutes, until the sugar dissolves. Increase the heat to medium and boil uncovered until the sugar turns a warm chestnut brown (about 350 degrees F on a candy thermometer), 5 to 7 minutes (it took about 20 min. for me), gently swirling the pan to stir the mixture. Be careful; the mixture is extremely hot! Watch the mixture constantly at the end, as it will go from caramel to burnt very quickly. Turn off the heat. Stand back to avoid splattering and slowly add the cream and vanilla. The cream will bubble violently and the caramel will solidify; don't worry. Simmer over low heat, stirring constantly, until the caramel dissolves and the sauce is smooth, about 2 minutes (took at least 5 min. for me and there were still a few solid sugar chunks that I just took out). Allow to cool to room temperature, at least 4 hours. It will thicken as it sits.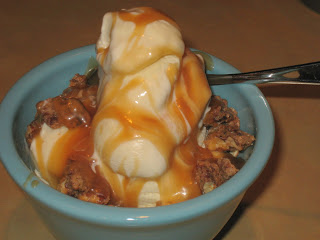 To assemble the sundaes, place 1 scoop of vanilla ice cream and 1 scoop of butter pecan ice cream in each dish and sprinkle with toasted pecans. Drizzle with caramel sauce and serve extra sauce on the side.