This post may contain affiliate links which won't change your price but will share some commission.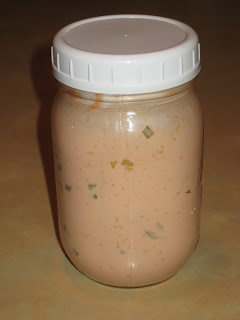 Thousand Island Dressing is my favorite salad dressing. I almost always use it when I have salads. I've never tried making it and always just assumed it was tough to make. But apparently not 😛  I'm sure there are lots of variations out there, but I found an easy recipe on Heavenly Homemakers. I didn't even add all the ingredients…just 3! That's it, 3 ingredients. And it tastes great! Who knew it was that easy? I made it in about 3 min. this morning. I can't wait to try it on our cobb salad tonight!! I need to calculate the cost too. I bet it's pretty cheap. I made the dressing in a pint jar. It makes almost a full pint. Maybe sometime I'll try making the full recipe. But for today I did just the first 3 ingredients. Yum! The toughest part about this was attempting to take a decent picture 😛  And tasting salad dressing at 5:00 in the morning 😉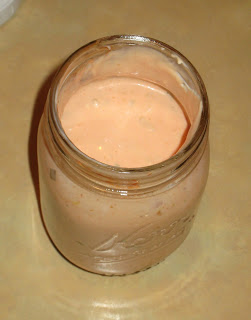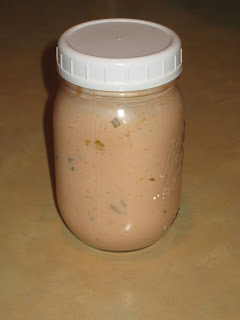 Thousand Island Dressing
1 cup mayonnaise
1/3 cup ketchup
1/4 cup pickle relish
1 Tbsp. minced onion (I didn't add this…just didn't feel like chopping onion this morning 😛  It tastes fine without it…but probably would be good with it too.)
1 hard boiled egg, chopped (optional…I didn't add this.)
Mix ingredients, cover and chill.