This post may contain affiliate links which won't change your price but will share some commission.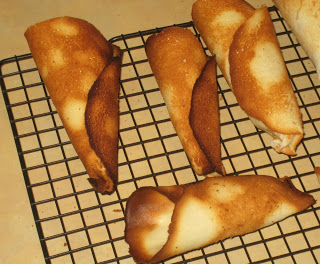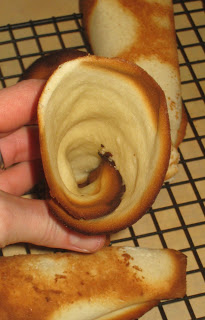 Since it was such a rainy day yesterday Rebecca and I tackled another experimental baking project…ice cream cones! I haven't had much luck finding a recipe that looks all that great. But I found this one from Disney Family Fun a long time ago. Figured I'd give it a shot. The cone is like the cookie style cones you sometimes see at ice cream shops. It reminds me of a mix between a sugar cookie and a fortune cookie. I think I made them a little thicker than I'd like, but it was a first attempt. The really tough part is shaping them. I don't have a cone shaper (note to self…put on gift list:), so I have to try to do it by hand…while they are super hot, just out of the oven. It's tough to roll it and pinch the end before it starts cooling. But it was a fun experiment. One didn't roll well at all, so we used that to munch on. We haven't tried them with ice cream yet. I'll update when we do. This is a decent base recipe. It would work well for making ice cream bowls or even making your own fortune cookies. And best of all, no HFCS or hydrogenated oils! I'm glad we tried it.
**Edited 4-13-10: These taste great with ice cream!!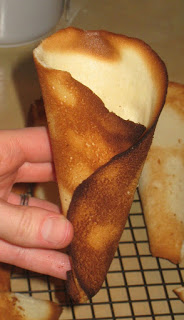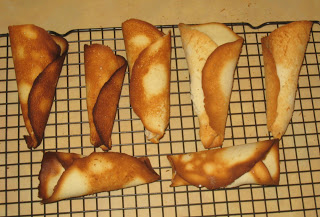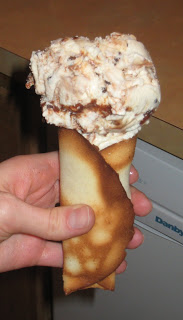 Ice Cream Cones
2/3 cup sugar
3 egg whites
1 cup all-purpose flour
1/2 teaspoon vanilla extract
1/3 cup melted butter
Heat the oven to 400º F (350º F if you're using a dark-coated baking sheet). In a medium-size bowl, beat the sugar and egg whites with an electric mixer for 30 seconds.
Mix in the flour until smooth, then add the vanilla extract and melted butter. For each cone, scoop 2 1/2 tablespoons of batter onto the baking sheet, spreading the batter into thin 6-inch circles (use a measuring spoon for accuracy). (Try to get it quite thin…I think that is the trick. And I also think it helps to grease the baking sheet.)
Bake for 7 or 8 minutes or until golden, then remove the sheet from the oven (they need to get quite dark to work well, darker than I expected. Otherwise it stays too doughy.). Working quickly, form each cookie into a cone (a parent's job), pinching the tip to seal it tightly. Allow the cones to cool seam side down on a rack.