This post may contain affiliate links which won't change your price but will share some commission.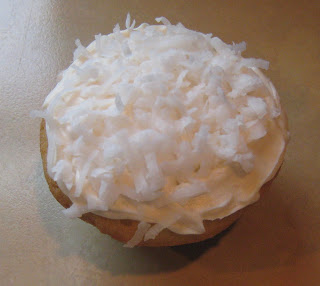 My BIL and SIL are both graduating. They will be having a potluck open house next Saturday to celebrate before they move down to Kentucky to continue school (residency and PhD work). I decided to bring a couple different kinds of cupcakes. One of them is coconut. I found this recipe in my Barefoot Contessa cookbook a while back. It sounded like something a little more unique. The actual recipe is for a cake. I made cupcakes. This recipe makes a lot of batter. I think it would work better in 3 cake pans instead of 2 (like the recipe says). I made 30 cupcakes. I'll add cream cheese frosting with a layer of coconut. I let Justin try one last night. He really liked it. Rebecca and I tasted one without frosting. Not very strong coconut. Tastes more almondy. But I think the frosting really brings out the coconut flavor. These were easy to make and turned out well. Someday I'll have to try actually making the cake. I'm not making her frosting recipe. I just don't have time. I'll be making a different frosting recipe.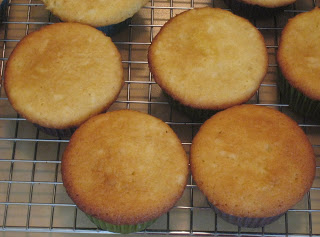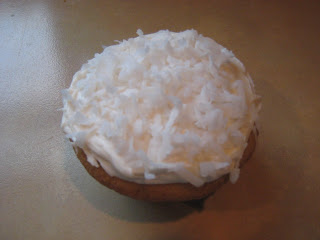 Coconut Cake
3/4 lb. (3 sticks) unsalted butter, at room temperature, plus more for greasing the pans
2 cups sugar
5 extra-large eggs, at room temperature (I just used large eggs)
1 1/2 tsp. pure vanilla extract
1 1/2 tsp. pure almond extract (This makes it pretty strong. I might cut back if I make it again.)
3 cups all-purpose flour, plus more for dusting the pans
1 tsp. baking powder
1/2 tsp. baking soda
1/2 tsp. kosher salt
1 cup milk
4 ounces sweetened shredded coconut (I might add more next time)
For the frosting:
1 lb. cream cheese, at room temperature
1/2 lb. (2 sticks) unsalted butter, at room temperature
3/4 tsp. pure vanilla extract
1/4 tsp. pure almond extract
1 lb. confectioners' sugar, sifted
6 oz. sweetened shredded coconut
Directions
Preheat the oven to 350 degrees F. Grease 2 (9-inch) round cake pans, then line them parchment paper. Grease them again and dust lightly with flour (I think 3 pans would work better). Or you can use muffin cups.
In the bowl of an electric mixer fitted with a paddle attachment, cream the butter and sugar on medium-high speed for 3 to 5 minutes, until light yellow and fluffy. Crack the eggs into a small bowl. With the mixer on medium speed, add the eggs 1 at a time, scraping down the bowl once during mixing. Add the vanilla and almond extracts and mix well. The mixture might look curdled; don't be concerned.
In a separate bowl, sift together the flour, baking powder, baking soda and salt. With the mixer on low speed, alternately add the dry ingredients and the milk to the batter in 3 parts, beginning and ending with dry ingredients. Mix until just combined. Fold in the 4 oz. of coconut with a rubber spatula.
Pour the batter evenly into the 2 pans and smooth the top with a knife. Bake in the center of the oven for 45 to 55 minutes, until the tops are browned and a cake tester comes out clean. Cool on a baking rack for 30 minutes, then turn the cakes out onto a baking rack to finish cooling. I made 30 cupcakes…baked at 350 for about 25 minutes.
For the frosting, in the bowl of an electric mixer fitted with a paddle attachment, combine the cream cheese, butter, vanilla and almond extract on low speed. Add the confectioners' sugar and mix until just smooth (don't whip!).
To assemble, place 1 layer on a flat serving plate, top side down, and spread with frosting. Place the second layer on top, top side up, and frost the top and sides. To decorate the cake, sprinkle the top with coconut and lightly press more coconut onto the sides. Serve at room temperature.