This post may contain affiliate links which won't change your price but will share some commission.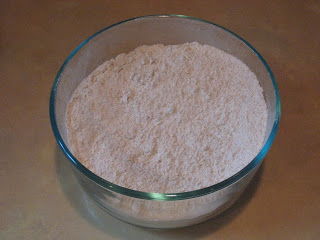 Yesterday I finally tried my new grain mill attachment for my stand mixer. I ground some hard winter wheat berries. It's so easy. And it makes awesome, soft flour. It is noisy and takes a little time. But not too bad. I made about 4 1/2 cups of flour yesterday. And I've already used most of it 🙂  Freshly ground flour really does make your baked goods taste better. I'm excited to do this more often. I just need to find a good source for wheat berries…cheap 🙂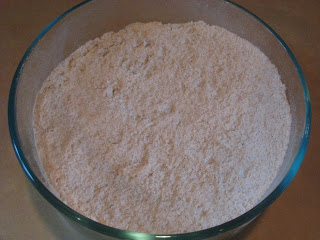 The first thing I tried making with my freshly ground flour was pizza dough for homemade pizza last night. I used the same dough recipe I always use, but modified it slightly to make it 100% whole wheat. This was awesome! It had great flavor and texture. I also made homemade sauce for our pizza. It doesn't get more homemade than that…all the way down to freshly ground flour. So healthy and so good! I topped mine with tons of veggies. Mmm. This makes me very anxious to try making whole wheat bread with my fresh flour. My camera battery was just about dead, so I had to take a picture as quickly as possible…and didn't get a very good one. Maybe I'll try again tonight when we have leftovers. But you can still see the crust.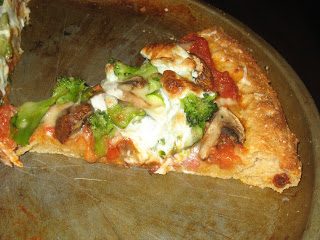 Whole Wheat Pizza Dough
1 Tbsp. active dry yeast
1 Tbsp. cane sugar
1 1/2 cups warm water
1 Tbsp. vital wheat gluten
2 Tbsp. cane sugar
3 Tbsp. EVOO
1/2 Tbsp. salt
4 cups flour (I used 3 cups freshly ground whole wheat flour and 1 cup white whole wheat flour)
Sprinkle yeast, wheat gluten and 1 Tbsp. sugar over water. Let bubble (about 5 min.). Add 2 more Tbsp. sugar, oil, salt and flour. Mix. Cover. Let rise about an hour. Spread on pizza pan. Add toppings. Bake at 450 or 500 for 15-20 min. Let pizza rest a few mintues before cutting.
This makes enough for 2 pizzas or 1 pizza and breadsticks.