This post may contain affiliate links which won't change your price but will share some commission.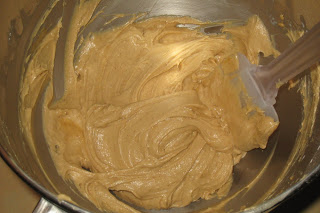 Last weekend I brought cupcakes to my SIL and BIL's open house. I made 2 kinds – coconut and chocolate peanut butter. I got the recipe for the chocolate peanut butter cupcakes from my Barefoot Contessa cookbook. I decided to just use my regular chocolate cake recipe with her frosting recipe. Super simple and SO good. What's not to like about chocolate and peanut butter together? 🙂  It's not the healthiest recipe…but what cake/frosting is? 😛  Definitely a keeper. And I was finally able to use up my last bit of JIF peanut butter that's been in my cupboard for a while! We haven't used that stuff in a long time (total junk). But I sometimes have it on hand for baking…and giving away 🙂  I didn't have quite enough so I did use some natural peanut butter. Still worked fine. I think Ina suggests Skippy (more junk). Just depends how "bad" you want to make the frosting. This makes quite a bit. I frosted about 2 dozen cupcakes pretty generously.
I won't have any pictures uploaded until we get our pc hard drive fixed. Too much of a pain to do it on the laptop. Check back in a week or so for pics (at least I hope it won't be more than a week!)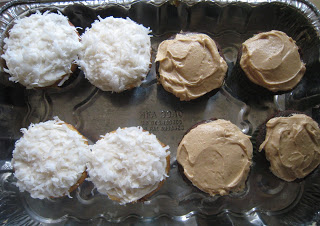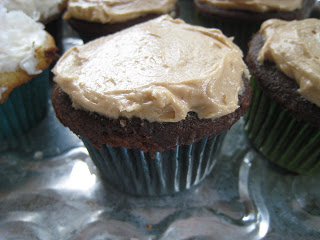 Peanut Butter Frosting
1 cup confectioners' sugar
1 cup creamy peanut butter
5 tablespoons unsalted butter, at room temperature
3/4 teaspoon pure vanilla extract
1/4 teaspoon kosher salt
1/3 cup heavy cream
Place the confectioners' sugar, peanut butter, butter, vanilla, and salt in the bowl of an electric mixer fitted with a paddle attachment. Mix on medium-low speed until creamy, scraping down the bowl with a rubber spatula as you work. Add the cream and beat on high speed until the mixture is light and smooth.