This post may contain affiliate links which won't change your price but will share some commission.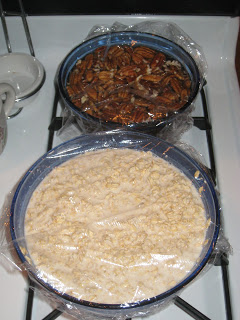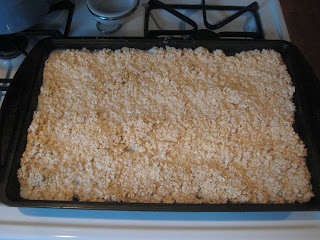 As I continue on my healthy eating journey I'm experimenting more and more. This week I tried soaking and dehydrating oats. I'm hopeful this will make them easier for me to to digest. Plus it will break down the phytates and make the nutrients more readily available. It is very simple to do. Hardly any active time at all. But the total time is over 24 hours. Still, not much to it. You just have to be sure you won't need the oven for anything else (unless you're using a dehydrator…mine is too small to do a big batch of oats). I should get another batch going soon so I have a good amount. I started small on my first try…just to see how it would go (5 cups). The end product is not like the oats you buy. They are quite hard. My plan is to use them in granola and granola bars. That way I can enjoy some of my favorite food and still have it be soaked. I'm anxious to see if they work well. I'm just about out of granola, so I'll be trying them soon. There are quite a few variations out there about the oat to water ratio. I used the recipe from Just Making Noise that uses a 1:1 ratio. I've seen 1:2 and 1:3 as well. Also, some people say to rinse them and some don't. Just depends if you want them to have a tanginess to them or not 🙂  I'll post the 4 cup quantities and the per cup quantities so you can adjust however much you want to make.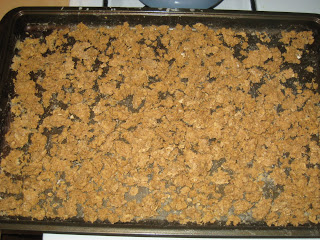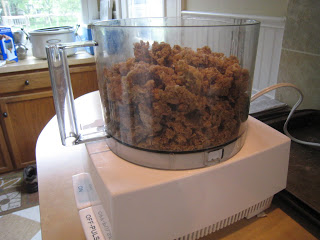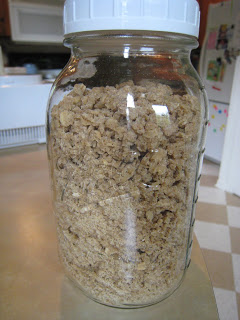 Soaked and Dehydrated Oats
4 cups rolled oats (NOT instant)
4 cups filtered water
8 Tbsp. whey, lemon/lime juice, kefir or yohgurt (I used plain full fat yogurt)
————————————————————
PER CUP (adjust to however much you want to make)
1 cup rolled oats
1 cup water
2 Tbsp. whey, lemon juice, kefir or yogurt
————————————————————————
Warm the 4 cups of water in a saucepan (you don't need a microwave) till warm to touch. Do not let it boil! (I didn't warm mine. My water was room temp.)
Pour the oats, water and acid medium (whey, etc..) into a large glass bowl and mix thoroughly. Cover the bowl with a towel or plate (I covered it loosely with plastic wrap.) and let it sit overnight in your oven or on your counter (wherever you have space).
Important: Let it sit for 8 – 24 hours… 12 hours is okay, but I always soak mine for 24 hours to reduce the phytic acid as much as possible. (I soaked mine for just under 24 hours).
Spread the oats on parchment paper in your tray or cookie pan (for oven drying) or put in dehydrator set on the highest temp (if you have that option) until completely dry. It can take anywhere from 6 to 24 hours… depending on your dehydrator. You can dry the oats in your oven set on the lowest temperature. (I rinsed and drained the oats, then placed them on a baking pan (no parchment…worked fine). I dried them in the oven at the lowest temp (around 150) for about 15 hours. I stirred them periodcially to expose the moist areas.).
When the oats are dried, you will be able to break them into chunks. Put the chunks in your food processor or blender and pulse until coarsely ground (kinda like oatmeal flakes). Don't grind it fine unless you want oat flour.
Pour the oats in a sealed container and store in your fridge or in a cool, dark place. Ta-daaa! There you go… you have 'Soaked & Ready' Oats for satisfying your urge to make cookies (or granola or granola bars)! Remember, you can make this however much you want.