This post may contain affiliate links which won't change your price but will share some commission.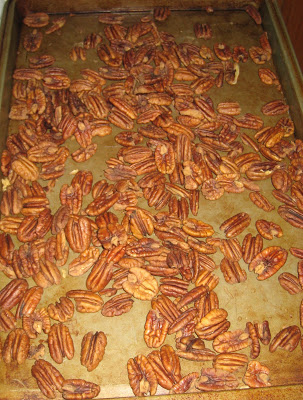 I soaked and dehydrated some pecans the same time I soaked my oats. It is a similar process except you use salt instead of yogurt. But the soak and dry times were the same. And I had them in the oven together. Very efficient. The soaking and drying process for most nuts and seeds is the same. But there are some variations of times.
I did pecans for my first attempt. These are great!!! I love eating nuts plain. But they are even better like this (in flavor…almost a sweetness to them). Plus they are so much better for you! Love it. And now they are all set to use in  my granola. I'll just post the recipe for pecans here. As I try different varieties of nuts I'll post them separately. My hope is to start making all of our peanut butter/nut butter from scratch…using soaked nuts. Then maybe I can finally eat nut butter without worrying about how it will impact my tummy 🙂  I wish someone had told me a long time ago there was a way to  make your food easier to digest 🙂
I got this recipe from the Nourishing Traditions cookbook. But you can find it many places if you do a search on soaking nuts. These are great for baking, sprinkling on salads or pasta or just for a snack!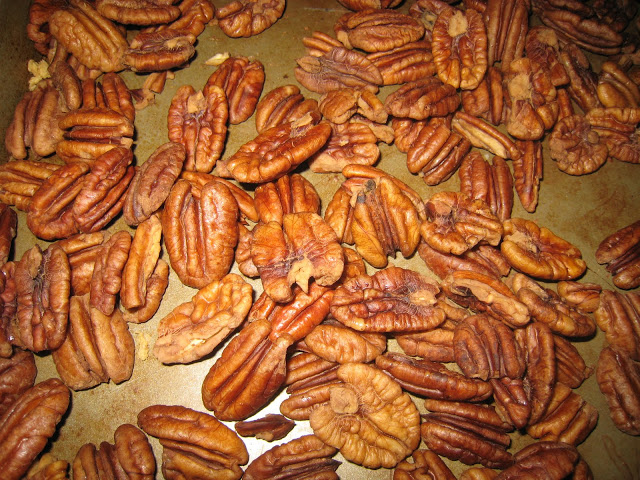 Crispy Pecans
4 cups (1 lb.) pecan halves
2 tsp. sea salt
water
Mix pecans with salt and water and leave in a warm place for at least 7 hours or overnight (I soaked them for close to 24 hours.). Drain. Spread pecans on baking pan. Place in oven on lowest setting (150 degrees) for 12 to 24 hours (I did bout 15 hours.), stirring once in a while, until completely dry and crisp. You can also dry them in a dehydrator. Store in an airtight container.