This post may contain affiliate links which won't change your price but will share some commission.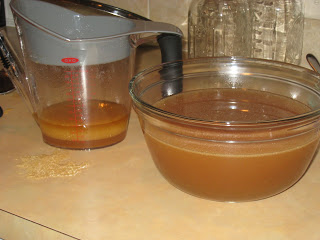 I've been reading so much about bone broth since I started reading Nourishing Traditions. It is packed with nutrients and is so good for digestion. I finally got around to making some on Sunday. I didn't follow any one recipe/method exactly (based mine on both Nourishing Traditions and Naturally Knoced Up). But I did end up with awesome tasting, healthy broth! I got about 4 pints. It is quite concentrated. I could have easily added more water while cooking it. But I'll just add the water as I use it…takes up less storage space that way 🙂  I froze 3 pints and kept one out for meals this week.
I started the process by roasting a whole chicken in the crockpot on Sunday morning. We had it for lunch. I kept all of the liquid in the crockpot after removing the chicken. After lunch I deboned the chicken and put all of the skin/bones/fat back into the crockpot (with the liquid and some other bones I had saved from last week). I added some onion and water and let it cook. Part way through cooking I added unrefined sea salt, pepper, garlic powder and some carrot chunks. Including the time the chicken was roasting I had my broth going for about 24 hours. After cooking I drained everything through a collander lined with cheesecloth. Then I ran the liquid through my gravy separator to remove some of the really fatty stuff. It was really quite simple. Messy, but simple. I will try to do it more often now so I always have some on hand. I would like to get to a point where I eat/drink at least a little broth every day to help in the process of healing my gut and just becoming healthier over all. And I'm anxious to try making bone broth from beef bones (when we get our Voogt beef). I'll try to write out the process in a recipe fashion below. You can make this in a stock pot, but I though the crockpot was way easier than having something simmering on my stove all day. Plus I don't feel comfortable leaving the stove on over night. You can do this in the opposite order…make the stock (simmering the whole chicken for the full time) and then eat the chicken. Some recipes say to add vinegar to help with the gelatinizing process. But I didn't…I didn't remember that part when I was making it 🙂  Mine is still plenty gelatinous. So, this is what I did. I'm no expert…this was my first attempt. But it seemd to work. And I had some for dinner last night. YUM!! Tastes like the best chicken soup you've ever had. I warmed it up with some of the leftover chicken (together) and had a pile of veggies on the side. Mmm.
Chicken Bone Broth
1 whole chicken (or whatever chicken parts you have)
Water
Seasoning (unrefined sea salt, pepper, garlic powder, herbs, bay leaf)
Veggies, very roughly choppped (whatever you like…onions, celery, carrots)
1-2 Tbsp. vinegar (optional)
Cook chicken or chicken parts. Place all of the bones, skin, fat in the crockpot (and any meat you want to add). At this point you can add 1-2 Tbsp. of vinegar and let it sit for an hour. This helps draw out the nutrietns from the bones. After the hour is up (or right away if you're not adding the vinegar) you can add your veggies and seasoning. Or you can wait until half way through cooking. Add enough water to cover everything. Turn on the crockpot and bring to a boil. Skim off any nasty stuff that comes to the top (I didn't do this…just waited until the end and strained everything well). Let simmer in crockpot 6-24 hours. The longer you cook it the more nutrients you draw out of the bones. When the cooking is finished drain everything through a colander lined with cheesecloth. As the broth cools the fat will rise to the top and you can skim off as much or as little as you want. Or if you have a gravy separator you can run the broth through it right away (before it cools). You can store it in the refrigerator or freezer. It works well to freeze it in ice cube trays so you can take out as much or as little as you want at a time.