This post may contain affiliate links which won't change your price but will share some commission.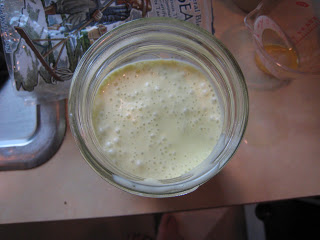 We are almost out of mayonnaise. So I thought I'd try making some. I found a recipe in Nourishing Traditions. It's very simple to make. But I'm not sure I like it. I think the flavor of the whey is way too strong. Or maybe it's that combined with the EVOO. I don't know. I'll have to try it on/in something before deciding for sure. I'll post the recipe and update later with a final verdict. This may be one that gets scrapped. It's all about experimentation. Anyone else have a good mayo recipe?
Oops…as I'm typing up the recipe I realize I was in such a rush making this I didn't read carefully and forgot to leave it on the counter. I just put it right in the fridge. I'll set it out now and see what happens.
I took the pictures right after I made it…before it had time to firm up.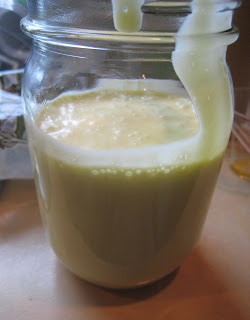 Mayonnaise
1 whole egg, at room temp
1 egg yolk, at room temp
1 tsp. Dijon-type mustard
1 1/2 Tbsp. lemon juice
1 Tbsp. whey (optional)
3/4 – 1 cup EVOO or sunflower oil (or a combo)
generous pinch of unrefined sea salt
In a food processor, place egg, egg yolk, mustard, salt and lemon juice and optional whey. Process until well blended, about 30 seconds. With the motor running add the oil. Taste and check seasoning. You may need to add more salt or lemon juice. If you added whey, let the mayo sit at room temp, well covered, for 7 hours before refrigerating. With whey added mayo will keep several months and will become firmer with time. Without whey, mayo will keep for about 2 weeks.