This post may contain affiliate links which won't change your price but will share some commission.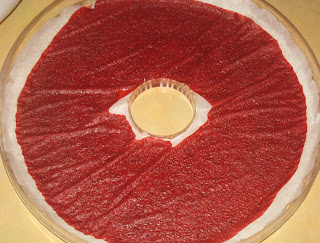 I've been brainstorming ways to use up strawberries. Yesterday I came across a "recipe" for fruit roll-ups  on Kat's food blog (just found her site yesterday…an old friend from an IBS message board we both used for a while). This could not be any easier. And it turns out great!!! Honestly, I think it tastes exactly like the fruit roll-ups I ate growing up…and they were not healthy by any means. This is just strawberries and a drizzle of honey. That's it! And it doesn't taste like you're missing out on anything. A wonderful way to use up my last few strawberries. The best part…Rebecca loves them! I'm planning to make more…when I get more strawberries 🙂  And I can't wait to try it with other fruit too. I'll post Kat's directions. But you really just make it to taste. I didn't measure anything. Just pureed what I had and added honey to my liking.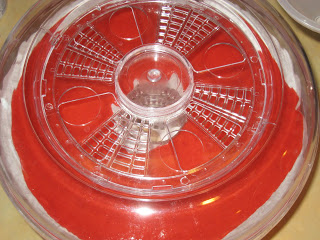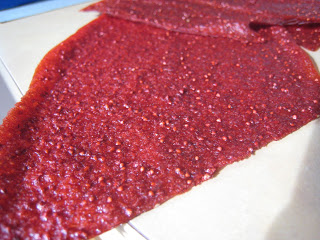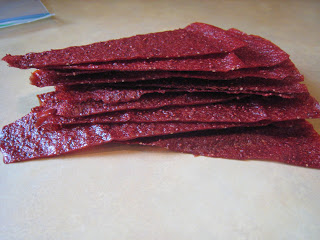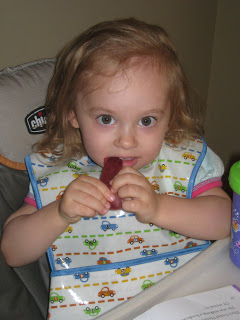 Fruit Leather/Fruit Roll-ups
1 1/2 cups strawberries, pureed (I'm assuming this would work just fine with frozen berries too…so we can make them year round…especially since I'm freezing some strawberry puree. Other berries would work too. For some (raspberries, blueberries) you might want to strain them after pureeing.)
1 Tbsp. raw honey
Mix fruit and honey. Poor onto a fruit leather lined tray and dry at 150 for about 10 hours.
I have a very basic dehydrator…no temp settings, I don't have any special screens or trays. I just cut a piece of parchment paper to fit a regular tray. Worked just fine. Mine took around 13 hours.