This post may contain affiliate links which won't change your price but will share some commission.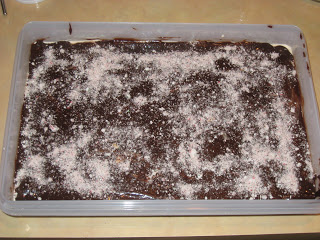 Every year we buy peppermint stick ice cream around Christmas. And eat it with homemade hot fudge. Mmmm. So a few weeks ago I decided to try making my own peppermint stick ice cream…since homemade ice cream is so much better 🙂  It turned out great. Then as I was thinking of desserts for our Christmas parties next week I thought it would be fun to make a version of buster bars with peppermint stick ice cream. I made it yesterday. Looks sooooo good!! Too bad I can't taste it until next week 😛  But I'm sure it will be good. I used the idea of my MIL's buster bars, but really the final product/ingredients are very different. I used organic cookies, homemade ice cream, and my recipe for chocolate sauce. So this is my healthy holiday version of buster bars. You have to make it in steps. But each step is pretty easy. I make the chocolate sauce a day ahead. Then the next day I can assemble the rest.
Edited 12/23/10 – These are awesome!!!!!!!!!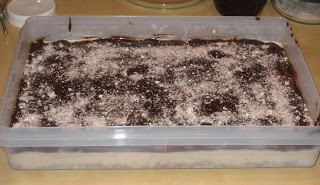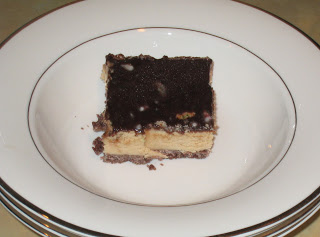 Peppermint Stick Buster Bars
1 cup pure cane sugar
1/3 cup cocoa
2 Tbsp. flour or arrowroot powder (I tried 1 Tbsp. of each for this. Seemed to work well. Gets thick much faster and stays thicker. I do use whole wheat flour for this…works just fine.)
1/4 tsp. unrefined sea salt
1 cup boiling water
1 Tbsp. butter
3/4 tsp. vanilla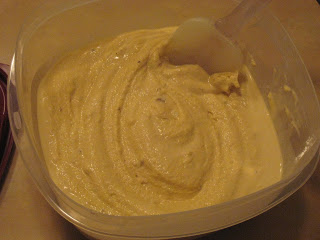 Peppermint Stick Ice Cream:
3 egg yolks
1/2 cup maple syrup
2 tsp. vanilla extract
2 tsp. peppermint extract
1 Tbsp. arrowroot powder
3 cups heavy cream (preferabley raw, not ultrapasteurized)
1/2 cup crushed candy canes (I use my food processor to crush them.)
Bars:
1 lb. chocolate cookies, crushed (I used organic creme filled cookies. I would like to try using my homemade chocolate graham crackers sometime. I use my food processor to crush them.)
1/2 cup butter, melted
1 recipe peppermint stick ice cream
1 recipe chocolate sauce
Crushed candy canes (optional) (I use  my food processor to crush them.)
————————————-
To make the chocolate sauce:
Blend sugar, cocoa, flour and salt in sauce pan. Turn on heat and add boiling water. Bring to a boil. Cook, stirring constantly, until thick, about 10-12 minutes (for just flour) or 5 min. (for arrowroot powder). Remove from heat. Stir in butter and vanilla. Store in refrigerator.
To make the ice cream:
Beat egg yolks and blend in remaining ingrdients (except candy canes) (I do this all by hand with a whisk in a large measuring cup). Pour into an ice cream maker and process according to instructions (about 20 min. in my Kitchen Aid ice cream maker attachment). Add candy canes during the last minute of processing.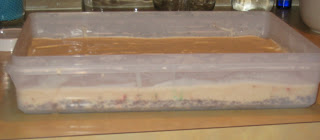 To make the bars:
Mix cookies and melted butter (I also added a little bit of crushed candy canes to the crust.). Pat into 9×13 pan (I use a 9×13 tupperware)  Put in refrigerator to harden while you make the ice cream. Make ice cream. Immediately spread on top of crust. Let freeze until firm (at least several hours). Spread chocolate sauce over top. Sprinkle with candy cane pieces. Freeze.