This post may contain affiliate links which won't change your price but will share some commission.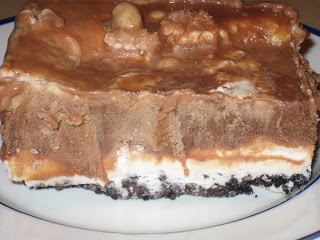 I made buster bars yesterday morning. I got the recipe from Justin's mom. It may be getting chilly, but I think an ice cream dessert is good year round 🙂 And this is a good one!
Buster Bars
Sauce:
2 cups powdered sugar
1 1/2 cups evaporated milk
2/3 cup chocolate chips
1/2 cup butter
1 tsp. vanilla
Bars:
1 lb. oreo cookies, crushed
1/2 cup butter, melted (I used less than this)
1/2 gallon vanilla ice cream, softened
1 cup peanuts (or any nut you like)
Mix sauce ingredients in saucepan and boil 8 minutes, stirring constantly. Add vanilla at the end. Let cool.
Mix oreos and 1/2 cup melted butter. Pat into 9×13 pan. Spread ice cream on top. Sprinkle with peanuts. Let freeze 1/2 hour – 1 hour. Pour cooled sauce over top. Freeze.
*Be sure to let the sauce cool sufficiently. Otherwise it will melt the ice cream and sink to the bottom.
*I use a 9×13 tupperware. It has a lid and works well for storing in the freezer.
*I put chocolate chips on half of it this time instead of peanuts (I'm avoiding peanuts b/c they seem to bother Rebecca). Any topping of your choice will do…although peanuts are very good. I've used honey roasted peanuts before. That was really good.