This post may contain affiliate links which won't change your price but will share some commission.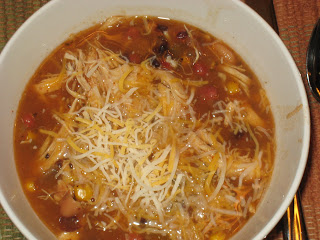 I got a new recipe from Elaine, the mom mentor in my MOPS small group. I tried it last night. Very good!! It makes a huge pot…filled my 6qt. crockpot. So there is plenty for lunches, another dinner and some in the freezer. I pretty much followed the recipe exactly. Except I didn't add the cheese at the end. We just put cheese in our individual bowls. I figured it would freeze better without the cheese. It was a little spicier than what we normally eat. I couldn't find any mild corn and black bean salsa, so I had to get a spicy one. I think next time I'll just add some corn, black beans and regular mild salsa. And I might skip the green chilis. I served it with some black bean and salsa bread that I had in the freezer. That's pretty spicy too. Definitely needed a mint after that meal 🙂 I had it in the crockpot for about 12 hours. I say the longer it cooks the better. This recipe is definitely a keeper. Some diced avocado would be really good sprinkled on top.
Southwest Chicken Chili
1 cup chopped onion
2 tsp. ground cumin
1 tsp. dried oregano
1/4 tsp. pepper
48 oz. jar Randle deluxe mixed beans (include juice)
1 jar (24 oz.) corn and black bean salsa
2 (4 oz.) cans diced green chilis
4 cups chicken broth
4 cups chicken, cooked and cubed
2 cups shredded mexican blend cheese
In 6 qt. slowcooker: Place all ingredients except cheese. Stir to combine. Cook on low 7-10 hours or high 3 1/2 – 4 hours. 15 minutes before serving stir in cheese until melted.
Garnish: sour cream and tortilla chips