This post may contain affiliate links which won't change your price but will share some commission.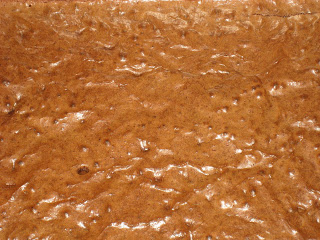 I made a batch of brownies this morning. I got this recipe a long time ago off the back of a chocolate chip bag. They are so easy and so good. And you can add all different things to change them up.
Double Chocolate Brownie Bars
1/2 cup butter
2 cups semi-sweet chocolate chips
1 1/2 cups sugar
1 1/4 cups all purpose flour
1 tsp. vanilla
1/2 tsp. baking powder
1/2 tsp. salt
3 eggs
1 cup chopped walnuts (optional)
Heat oven to 350. Grease 9×13 pan. In large, microwave safe bowl place butter and 1 cup chocolate chips. Microwave on high 1 – 1 1/2 minutes, until chips are melted when stirred. Add sugar, flour, vanilla, baking powder, salt and eggs. Stir with spoon until smooth. Stir in remaing 1 cup chocolate chips. Spread batter into pan. Sprinkle walnuts over top (if desired). Bake 30 minutes or until center is set (use toothpick test). Cool and cut.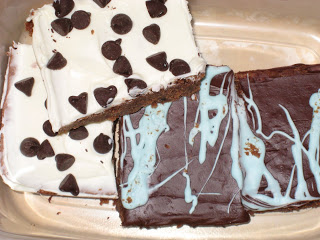 *You can stir any kind of chips in to these. I've done peanut butter chips, butterscotch chips and white chocolate chips. Small candies like m&m's, reese's pieces or heath bits would be good too. And you can do any kind of nut you like. Or you can leave the add-ins out all together and just have plain brownies.
*I'm going to frost this batch. Something new to try.
I ended up making two batches…to send to work with Justin. I used up all my leftover frosting. And I got to be a little creative 🙂 They are really good with frosting! Especially the chocolate frosting.