This post may contain affiliate links which won't change your price but will share some commission.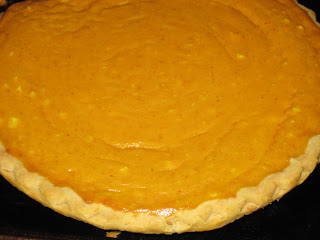 I tried a new recipe last night. I don't like pumpkin, but it's pumpkin season 🙂 And Justin loves it. Plus his parents are coming tonight. So I thought I'd give it a try. Surprisingly I even like this! Although I just had a little taste. I don't know if I could eat a whole piece…too much pumpkin for me (I do LOVE cheesecake, so that helps). Justin had a piece topped with whipped topping and really liked it. The middle was still a bit soft when I cut into it. Not sure if it should have baked longer or if it just needed some time in the fridge to firm up more. We'll see what it's like tonight after a day in the fridge. It was very easy to make. Definitely a keeper. I got it from All Recipes. It does make a lot of batter. Be sure your pie shell is big enough. Mine spilled over the egde on one side. Glad I set the pie on a baking sheet before putting it in the oven or I would have had a big mess.
Pumpkin Cheese Pie
1 (8 oz.) pkg. cream cheese, softened (I used 1/3 less fat…could add to softness, not sure)
2 cups pumpkin puree
1 (14 oz.) can sweetened condensed milk
3 eggs
1 tsp. pumpkin pie spice
1 (9″) unbaked pie crust
Preheat oven to 350. Mix cream cheese and condensed milk until smooth. Stir in the pumpkin, spice and eggs. Mix until well combined. Pour into pie shell. Bake for 45 min. or until knife inserted 1″ from the edge comes out clean. Let set to firm up.