This post may contain affiliate links which won't change your price but will share some commission.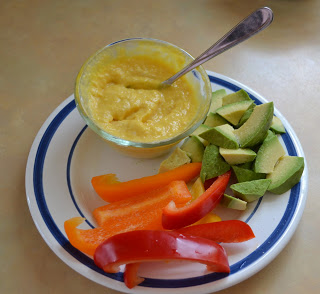 I'm just starting on my GAPS journey. And trying to figure out what I can/can't eat. I LOVE beans…all kinds. And eat them all the time. I think I ate them every single day during my last 2 years of college 😛  I've always figured they were good for me…tons of fiber, right? Well, turns out that in reality most beans are very starchy…which is why they are so hard to digest…and so hard on my tummy. Most beans are not GAPS-legal. I was very disappointed to read that. Thankfully there is one kind of bean that is allowed – navy beans. It's not a bean I'm used to eating. No particular reason why, just never really have. But over the past couple weeks I've been using them more. A couple weeks ago I tried making hummus with navy beans and chickpeas…a transition. It was very good. Justin didn't even know I had used different beans. So this week I tried making hummus from just navy beans. The verdict…excellent!! I use my usual, basic recipe…even more scaled down/simple now. So easy to make. And so good. Just beans, EVOO and salt.
So, I have a safe, tasty hummus. But then I wondered if I could use my hummus as another place to sneak egg yolks into my diet. I tried it today. Tastes great! I couldn't even tell it was there…aside from the color of course. Actually adding the egg yolk makes it look more like regular hummus 🙂  I only took a picture of it with the egg yolk added. So glad I tried this. It makes a very healthy and easy snack or lunch for me. Just pair it with some veggies and I'm all set. I think I'll be making hummus quite often now. Protein, safe fiber and now eggs too. I just did one egg yolk in a samll dish of hummus this time. Maybe next time I'll try 2 yolks. See how it goes.
I make a big batch without the egg. Then just add an egg yolk into the portion I'm eating at the time. I never actually measure anything. Just keep adding oil until it's smooth. Then season to taste. I served it today with raw peppers and avocado. Sometimes I use slices/chunks of cheese for dipping. I also eat it plain.
This is linked to the Gluten Free Recipe Parade at Heavenly Homemakers, Grain Free Tuesday at Hella Delicious and Fat Tuesday.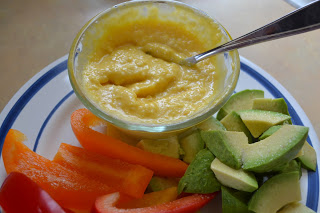 Navy Bean (and egg) Hummus
2 cups cooked navy beans (soaked in water w/ whey overnight, then rinsed and cooked)
1/4 – 1/3 cup cold pressed extra virgin olive oil
unrefined sea salt to taste
(garlic or organic garlic powder to taste – optional)
raw egg yolk (optional)
In a food processor combine beans, salt and part of the oil. Blend, adding more oil until desired consistency. Check seasoning and adjust to taste.
Stir in raw egg yolk when serving for added nutrition.