This post may contain affiliate links which won't change your price but will share some commission.
Good morning. Never mind the rain and lack of sleep. At least I'm enjoying some breafast while my favorite little guy enjoys his 🙂  Hard to believe how much has changed since I posted last Sunday! This could be a really long post (lots of stuff to ramble about) or really short (ummm…I have an upredictable newborn:).
Let's see. Last week was a bit crazy of course. Abram was born on Monday morning. I came home Thursday morning. We're still adjusting and settling…taking things one step at a time. Sleep is not something I'm too familiar with at the moment 😛  But at least I've been able to get naps in when both kids sleep. We had quite a few family members visit last week. And we were even able to take a family walk/go to a garage sale. It sure felt good to get outside. I'm actually quite amazed at how good I feel. I have to remind myself that I just had surgery/not to overdo/not to lift Rebecca 😛  Since coming home I've only had a few Tylenol for pain…and even those were just to be sure I didn't let things get painful. Not too bad.
This week…the same as the weeks to come…take things as they come. All of our regular activities are done. And we have no schedule at the moment. So not much planning can be done (tough on an OCD/type A person!). Only a couple things on the agenda. Today Justin and Rebecca will go to church. I'm looking forward to having a little quiet time with Abram and to hopefully get a few things done! Wednesday Justin goes back to work. Scary 😛 Wednesday evening is our Kindermusik family night. I'm actually very excited to go to that…and get out of the house! I'll have to send Justin to Harvest Health some day this week for milk.
Meals this week are all a little tentative. We have a few meals from my family. And I know that so far someone will be bringing a meal on Tuesday. No word on meals beyond that…I know more will come, just not sure when. And of course most meals are things I can't eat…so I have alternatives for myself. And meals I make are things I can prep any time of day…when I have a few free minutes. I generally can't cook at dinner time since Abram is usually eating. Breakfasts are not planned. For me it's usually what I can grab with one hand. And for Justin it's whatever takes no prep. So I'll just list some options. Maybe I'll have to make a big batch of smoothie for myself. It's always nice to have something to just grab out of the fridge that is very nutritious.
Some to-dos on my list this week…order birth announcements, actually finalize our beef/pork order, schedule Abram's baptism, maybe do some online Father's Day shopping and clean up a few things as I'm able (I feel like a tornado went through our house with gifts, baby stuff, etc.).
On the health front…as much as I am able I'm trying to focus on proper nutrition for recovery and breastfeeding. Abram seems to have 2 long hollow legs sometimes 😛  So I know I need to eat enough. I feel like I went from full rosy cheeks last Sunday to a pale thinned out face this Sunday (of course surgery, blood loss, etc. don't help either, but still). I need to be sure I don't do what I did last time and be undernourished and lose too much weight (was under 100 lbs. while nursing Rebecca!). Thankfully my swelling has finally started to go down. My legs look normal to about half way between my ankle and knee. The rest of the way plus my feet are still bad. But making goood progress each day. My goal is to drink, drink, drink! Drinking water will help the swelling go down faster. Plus it helps with nursing too…that sure dehydrates you! I'm also thankful that my tummy is a little more tolerant again. It sure is nice not to have a big baby crowding everything and crazy hormones pumping. I'm still focusing on eating full GAPS. My struggle is with having quick, easy things to eat when I don't have time for food prep. Anyone have any good suggestions for prep ahead snacks, lunches, etc.? I'm trying not to go overboard with nuts, but they are the easiest thing so far. I still eat raw egg yolks with as much as I can but often don't have 2 free hands to crack an egg with 😛  Maybe I'll have to prep small bowls w/ egg yolks so I can just add things to them as needed. And maybe I'll make some hard boiled eggs to have on hand. I have tried my sauerkraut again the last couple days. Can't say I noticed any major reactions to it this time. So that's good. And I've eaten a few raw veggies.
No exercise yet. I'll give my body a couple weeks of recovery first. And then try to figure out how to squeeze in a little exercise each day. Really looking forward to that since it's my main source of stress/anxiety relief.
I think I'll save my other thoughts/challenges on life with 2 kids for a separate post…when I have more time. I will say that I'm doing my best to battle the OCD and use this as a new start…trying not to fall back into old routines/habits and just take each day/moment as it comes. So far it's going well for the most part.
And finally, it looks like we may be getting new neighbors soon! We'll be so so so sad to have our neighbors move. Rebecca LOVES playing with Eva. But we wish them the best of luck.
And just because…a few pics 🙂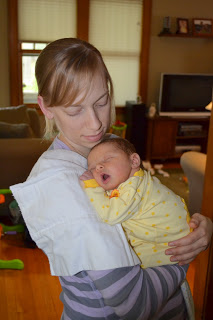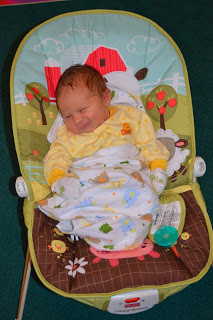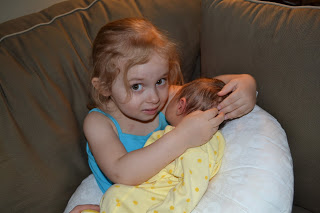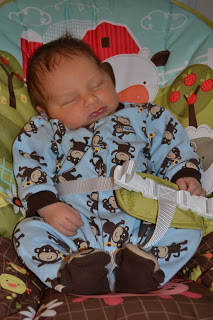 Ok, on the menu.
——————————-
Breakfast options:
avocado w/ egg yolk and cheese
eggs – scrambled, fried, hard boiled
misc. baked goods from freezer
toast
fruit
smoothies
yogurt/kefir
egg casserole
S (church, put away laundry)
  B – yogurt w/ nuts and raisins (me), yogurt, granola, fruit (Justin)
  L – black bean soup, corn muffins
  D – ham pizza (from freezer) (Justin), leftover egg salmon casserole (me)
M (library)
  B – yogurt/egg yolk, nuts, raisins (me), homemade cherry bars, pineapple (Justin)
  L – leftover egg salmon casserole (me), leftover black bean soup, corn muffins (Justin)
  D – round bone roast in cp w/ veggies
T (boil eggs, clean bathrooms)
  B – oatmeal muffins, fruit (Justin), egg casserole (me)
  L – leftover pizza (Justin), egg salad, avocado, cheese (me)
  D – someone bringing meal
W (Justin back to work, boil eggs, KM family night)
  B – hard boiled egg, pear (me), sourdough toast, fruit (Justin)
  D – early/light – leftover beef and veggies
Th (laundry)
  B – hard boiled egg, pear (me), granola bar, fruit (Justin)
  D – grilled hamburgers, grilled asparagus, carrot sticks, avocado, fruit
F ()
  B – hard boiled egg, fruit (me), muffins, fruit (Justin)
  D – sausage egg veggie muffins
S ()
  B – hard boiled egg, fruit (me), sourdough toast, fruit (Justin) 
  D – leftover hamburgers, peas