This post may contain affiliate links which won't change your price but will share some commission.
We're back! We successfully went on our first real vacation as a family of four. We spent 3 days at Double JJ Resort. And now that we're home safe and sound I can post my real plans for the rest of the week.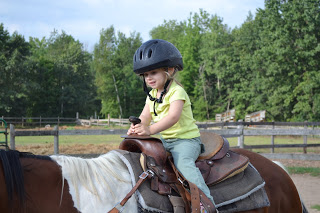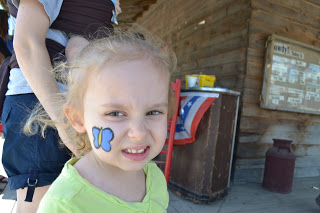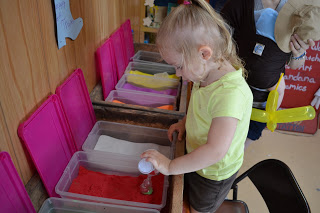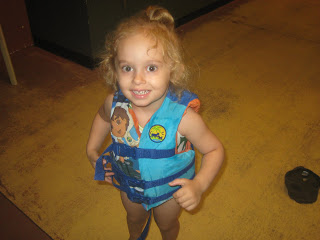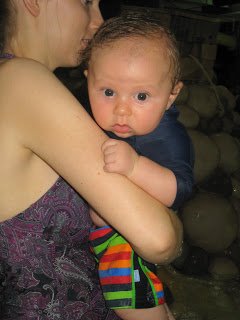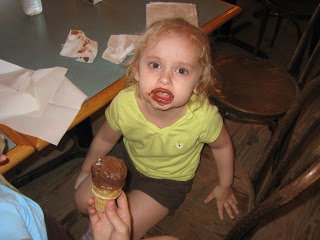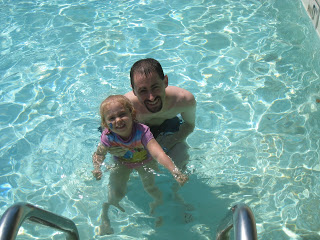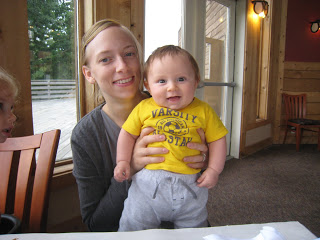 Before I move on to the meals, I wanted to give a little review of our trip. We had a lot of fun. Double JJ is a neat place with a ranch and water park. They have activities going on all day. You can stay very busy if you want. Or you can relax in the water all day. We didn't particiate in too many activities because our kids are too young. But Rebecca did enjoy a pony ride, petting zoo and sand art. Plus lots of water time. Our log home was very nice (you can go much cheaper…camp site, hotel or log cabin). I'm happy that we also traveled using cloth diapers. We used disposable at night to be sure we had enough. And we did have plenty. And we even got by with our 2 cloth swim diapers. I didn't have to buy any disposables for the trip since we had some size 2's leftover from Rebecca. Love that. The main thing I wanted to mention since this is a food blog is the food at Double JJ. If you like to eat healthy food, particularly vegetables…bring your own! I think it would be fun to go back some day when our kids are older and we can ride horses. But if we do we will for sure be brining/cooking all of our own food. We did bring all of our breakfasts and lunches (thank goodness!). But went out for dinner. They have several restaurants at the ranch. The first night we went to their nicest restaurant. I ordered some tilapia. It comes with a veggie and another side (potato, potato or more potato :P). I thought I'll just get 2 veggies instead of potato. So I asked about the veggie…broccoli cooked in butter. Well, I can't have dairy and I can't have broccoli right now. So I asked if I could get a different veggie…they only have 1 vegetable in the restaurant! They did have some sauteed mushrooms as a side…but they are also cooked in butter…and they make them all in the morning…can't get them plain/cooked another way. So, no veggie for me. I paid full price for a piece of fish and no sides. Justin had steak…a very expensive steak. And it was ok, but not great. Overcooked. The next night we went to another restaurant…nothing fancy at all. Rebecca chose pizza. It comes with french fries. Seriously? Who needs fries with pizza? So I asked if she could get a veggie instead of fries. "We don't have any vegetables." What?? None?? Normally they have beans, but that night they didn't have any. Not a single vegetable in the restaurant. Are you kidding? Thankfully I learned from the night before and brought a baggie of raw veggies for Rebecca. So at least she got some. So glad she can and will finally eat raw veggies! But where does that leave me? I got a chef salad. Take away the pound of cheese they put on top, the onion and the croutons. And I have a big bowl of lettuce with about 2 slices of cucumber and tomato and some lunch meat. Thankfully I brought extra cucumbers for myself and put them on my salad. Not ideal but I didn't have any other choice. I have not had lunch meat in years…and I don't care to ever eat it. But I did eat some that night. I had to eat something. A bowl of just iceburg lettuce was not going to do me much good. Needless to say the food leaves a lot to be desired. And we paid a lot for not much at the first restaurant. I know I have a lot of food restrictions. But I normally assume that if I have to go out I can at least get some kind of meat and veggie. Lesson learned. That isn't always the case. Double JJ is a really fun place to go. But bring your own food! Unless you don't care if you don't eat a single vegetable for days 😛
How did I do? I am quite proud of how I handled my OCD/anxiety. This was probably the most enjoyable vacation I've had in a LONG time. It really helped that Double JJ is only an hour away. Cutting out the travel time/time spent in a car really helps. But aside from that I did well while we were there. I'm glad I brought nourishing/healthy food for breakfast and lunch. But I'm still suffering the consequences of the poor food for dinner now. At least I was able to feel good while we were there. And it gives me hope that we can have many more fun family vacations in the future.
Another good thing is that we didn't have internet access. So it gave me a chance to get away from the computer, catch up on some reading, and do some planning.
Anyway, on to the plans for the week.
——————————————-
S (church, pack, make pesto, prep food)
B – soup (me), zucchini bread (Justin)
L – misc. veggies (me), beef roast and veggies (from freezer) (Justin)
D – egg salad, veg, chips, fruit
M (prep smoothies, wash diapers)
M – W – vacation
W (come home, unpack, laundry)
L – picnic at Silver Lake State Park
D – leftover cheeseburger, fries and pizza (Justin and Rebecca), ham, olives, cucumbers (me), peas
Th (prep nut milk smoothies, roast beets, pick out sink, fix mini van, make mud balls)
B – veggie soup w/ peas, olives and ham (me) sd english muffin, grapes (Justin)
L – hot dog, chips, fruit (Justin), nut milk smoothie (me)
D – CA chicken, baked potato, beans
F (prep dinner, clean, pack lunch, freeze beans, MI's Adv., make veggie soup)
B – veggie soup w/ beans, beets, olives and ham (me), breakfast cookies, peaches (Justin)
L – picnic at MI's Adv.
D – beef roast w/ veggies in cp
S (laundry, make pesto, soak beans, HH?, Art Museum?)
B – soup (me), TBD (Justin)
L – leftovers
D – bacon, pesto, tomato egg wraps, broccoli