This post may contain affiliate links which won't change your price but will share some commission.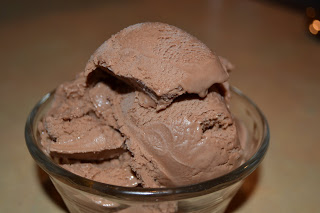 I LOVE ICE CREAM! It is my all time favorite food. And I haven't had a serving of ice cream in at least 4 months!! It's like pure torture. So I finally got around to trying out coconut milk ice cream yesterday. I was apprehensive since I wasn't crazy about coconut milk the first time I tried it (in a smoothie). I wasn't sure what flavor to try…something that would mask the coconut taste? I've seen plenty of recipes. But when I did a search yesterday the first one that came up was a chocolate version from Cheeseslave. I knew I had to try it. I didn't think I could do chocolate because of GAPS. But according to Anne Marie it's ok. Now, really you shouldn't have it until you've been doing GAPS for quite some time and have had a lot of healing. But since I'm still on full GAPS I figured I'd go for it. It was a super simple to make. And the verdict? YUM!!! I have to say it does still have a bit of the coconut flavor. So it didn't really taste like chocolate. It was almost more like coffee flavored ice cream. Which I'm not usually a huge fan of. But when you haven't had ice cream in months you get over that very quickly 🙂  Maybe next time I'll adjust it a bit and add more cocoa or some chocolate extract. Justin liked it too (although he likes dairy ice cream better). Rebecca wasn't a huge fan. I think because of the coconut flavor. One thing that did strike me about this ice cream was the texture. So creamy. Honestly I like the texture of this better than the dairy based ice cream I make. And it didn't get rock hard in the freezer. I could actually scoop it easily right out of the freezer.
This was an experiment since both Abram and I can be sensitive to coconut. I'm hoping we both handle it well. It was such a treat last night to have a little dish of ice cream…for me…that I didn't have to feel guilty about eating. I hope it goes over well and I can experiment with other flavors and recipes. Not that I intend to eat ice cream all the time now. But it sure is nice to have a little treat once in a while. And even if you can eat dairy this is a healthy alternative to regular ice cream since coconut is so good for you. And this does not use any refined sweeteners. Just raw honey.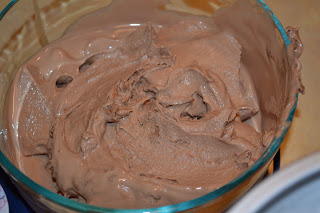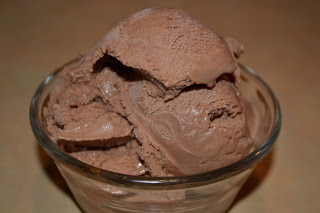 Chocolate Coconut Milk Ice Cream
3 Tbsp. cocoa powder, organic if possible
1 can coconut milk, full fat
Pinch of sea salt
1/4 cup honey
1 Tbsp. vanilla extract — homemade if possible (must be made with vodka to be GAPS legal)
4 egg yolks, ideally pastured or at least free-range organic (I only used 3 b/c we're almost out of eggs…still worked great)
Add coconut milk and cocoa powder to medium saucepan on low heat and whisk to combine. Stir in the sea salt, honey and vanilla extract, and whisk until honey is incorporated. Remove from heat. Whisk in the egg yolks. Chill this mixture thoroughly in the refrigerator. Follow the manufacturer's instructions of your ice cream maker (it took about 25 minutes in my Kitchen Aid ice cream attachment).