This post may contain affiliate links which won't change your price but will share some commission.
Ghee is the first dairy product introduced on GAPS and the mostly widely tolerated. It is clarified butter. Unlike butter it does not contain any whey, milk protein or lactose. Just milk fat. Up to this point I have never had ghee. I guess I thought it would be hard to make. Not sure why. Today I finally got around to it. And guess what? It's sooo easy. I wish I would have tried it sooner. Basically you heat butter in the oven. That's it. Really. I'm excited to have a jar in the fridge now and to start using it! What a great way to get more fat in my diet. I'm going to start adding it to each bowl of soup I make. And I can use it for cooking and baking. I used the method in the GAPS book to make this. Now I'm excited to try making other forms of fat. I'd really love to do goose or duck fat. I'll have to see what the co-op has for meat next month. In the mean time I need to make another batch of lard.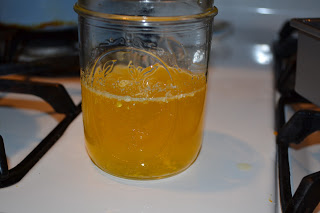 Ghee
Butter
Heat oven to 150 – 250 (I did 200). Place a block of unsalted butter in a metal pan (I used 2 sticks…you can do as much or as little as you want). Place in oven for 45-60 minutes (I did 45 minutes). Carefully pour the golden fat (ghee) into a glass jar, leaving the white liquid in the pan. Discard the white liquid. Store the ghee in the refrigerator.
This is what it looked like when it came out of the oven.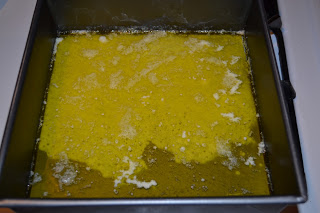 This is what was left after pouring off the ghee.