This post may contain affiliate links which won't change your price but will share some commission.
We are having some guests over tonight. So I asked Justin what kind of bread he wanted with the meal (I let him choose since I can't eat it anyway). He chose rolls. I decided to make my mom's recipe. So easy. And SO good. I haven't made them in a long time. But every time I do (or every time my mom makes them) everyone devours them. Not sure what makes them turn out so well or any differently than other rolls. But these are good! You can make them into bread, but I've never tried that. I'm sure it would be good, though. This is not a "healthy" bread recipe. It is made with white flour. I used 2/3 organic white and 1/3 organic whole wheat. But once in a while it is a nice treat. The original recipe makes 24 rolls or 2 loaves of bread. I've never made a whole recipe. I always do half. That's what I'll post. These rolls turn out great every time. Even if you're not an experienced bread baker. They are super soft. You could even use them as hamburger buns. Growing up we always put a hole in them and stuffed them with other food from our plates…turkey, veggies, applesauce, whatever. Yum. I may have to sneak a bite of one 🙂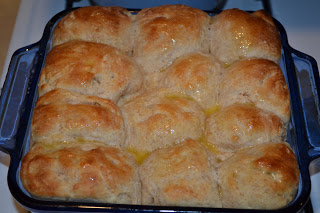 Rolls
makes 12
1 Tbsp. yeast (active dry or bread machine will work)
1/4 cup warm water
1/2 tsp. sugar
1/8 cup EVOO
1/6 cup sugar
1 tsp. salt
1 cup warm water
3 – 3 1/2 cups all purpose flour (preferably organic, you can sub some or all of it for whole wheat)
Mix yeast, water and sugar in a large bowl. Let sit for 5-10 minutes.
Add in remaining ingredients. Mix/knead by hand in the bowl until it is well combined. Cover and let rise until doubled, about 1 hour.
Punch down. Pull off chunks of dough and shape into balls (12). Place in a greased 9″ pan. Let rise again until doubled, about 30 minutes.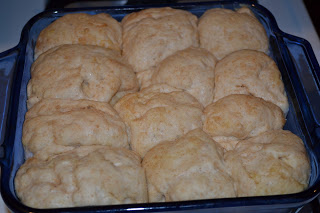 Bake at 375 for 20 minutes or 400 for 15 minutes. Brush with butter. Serve warm.