This post may contain affiliate links which won't change your price but will share some commission.
Rebecca and I had our Mommy/daughter date last night. And we had to pack a picnic dinner. When I asked her what she wanted to pack one of her requests was chocolate chip cookies. I decided to make a healthier version for us to make/take. I used the breakfast cookie recipe as a starting point and made a few modifications. The cookies turned out quite well. They are softer than a "normal" cookie. But they taste great! And I felt good about us eating them. We actually had some with lunch and dinner!
This post is linked to Fat Tuesday at Real Food Forager.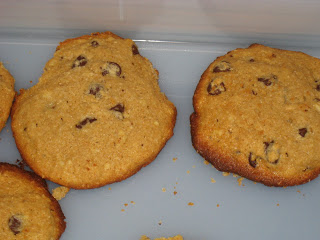 Soaked Cookies
1 1/2 cups whole wheat flour
1/2 cup rolled oats
3/4 cups butter, divided (1/2 cup melted, 1/4 cup softened)
1/2 cup buttermilk, yogurt or kefir (I used whole milk yogurt)
1/2 – 3/4 cup honey (sweetened to your liking)
1 egg
1/2 tsp. salt
1/2 tsp. baking soda
1 tsp. vanilla
1 cup chocolate chips (or any add in you like – nuts, raisins, etc.)
Combine flour, oats, yogurt and melted butter. Cover and let sit at least 7 hours.
Add softened butter and honey to flour. Blend with mixer until creamed. Add remaining ingredients (except chips). Blend well. Stir in chips.
Drop by spoonful onto ungreased cookie sheet. Bake at 350 for 20 minutes.