This post may contain affiliate links which won't change your price but will share some commission.
I finally got to the store and got some more wheat flour this week. So I can start trying more soaked recipes again 🙂  This week I made cereal. It is another recipe from the KS e-book. The original recipe is from Sarah at The Healthy Home Economist . This recipe is very simple, but it does take a couple days to make. So be sure you start in advance if you want to try it/have it planned for a specific day. There isn't much hands on work. It just takes time to soak and dry. The final product…great!! This is so good. I have to keep myself from munching on it constantly 😛  You can use it like cold cereal/serve it with  milk. Or you can use it like granola – plain, as a topping for yogurt, etc. It makes a great snack for kids too! I'm so glad I tried this. We'll see what Justin thinks when he has some for breakfast today. The flavor kind of reminds me of Wheaties. I might play around with the recipe a bit to see if I can make it more like flakes instead of crumbles. I only made a half recipe this time. I had to use more yogurt than the recipe calls for. And mine dried faster. I was surprised how quickly it dried.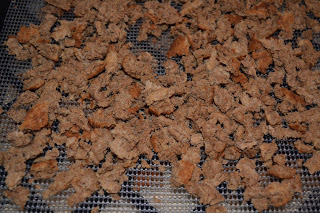 Soaked Cold Cereal
6 cups flour
3 cups plain yogurt, kefir, buttermilk or clabbered milk (I would increase this to about 4 cups)
3/4 cups coconut or palm oil (melted)
1 cup maple syrup or honey (I used syrup this time)
1 tsp. sea salt
2 tsp. baking soda
1 tsp. vanilla
1 tsp. maple flavoring (I don't have this, so I just skipped it)
1 Tbsp. ground cinnamon
Mix flour and soaking medium in a large glass bowl. Cover. Leave on the counter 24 hours.
Mix remaining ingredients well into the soaked batter. Pour into two 9×13 pans and bake at 350 for about 30 minutes (I think this would be good eaten as a cake too with some dried fruit or nuts added. Just stop at this point and enjoy :).
Let cool and crumble the cake into small pieces. Dehydrate at 200 degrees for 12-18 hours (I did about 150 for 9 hours in my dehydrator). Store in airtight containers in the refrigerator or freezer.