This post may contain affiliate links which won't change your price but will share some commission.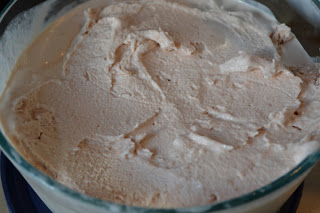 I've been making a lot of ice cream lately. And now that my intense chocolate cravings have ended after adding lots of carbs back into my diet (thought that would never happen!) I'm finding that I actually really enjoy fruity ice creams. I don't need overly sweet chocolatey/caramely ice cream flavors. Especially when I'm eating it for breakfast. Who knew 😛  This week we made another fruity ice cream. But it was inspired by Rebecca. She loves blue moon ice cream. What kid doesn't? I had searched for recipes for it a long time ago. Mostly you see a typical ice cream recipe with some sort of special blue moon flavoring. Not what I want. I did finally come across a recipe for homemade blue moon ice cream on One Perfect Bite. I don't really  know what the blue moon flavor is. Some form of raspberry I think. This recipe uses a combo of raspberry and lemon. I didn't follow this recipe, I just used the flavoring idea. The ice cream turned out great!! Delicious! Does it taste like blue moon? Sort of, not totally. It mostly tastes like raspberry ice cream 🙂  And ours isn't blue. It's more of  a pale pink. You can add blue coloring. I didn't want to ruin our healthy homemade ice cream with that. I don't measure anything when I make ice cream, so I'll do my best to write down the recipe. This was a fun experiment. I'll have to keep trying to figure how to make that blue moon flavor…with real food.
As a side note, I didn't realize blue moon isn't a common ice cream flavor to everyone. How sad that some people grow up never tasting blue moon 😛
**Update – I have heard from some people that they think nutmeg is the mystery flavor. I'll have to try that sometime.
This post is linked to Fat Tuesday at Real Food Forager, Real Food Wednesdays at Kelly the Kitchen Kop and Fresh Bites Friday.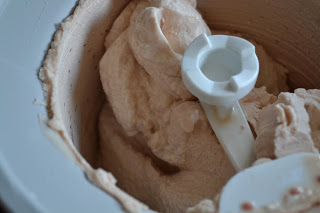 Not-So-Blue Moon Ice Cream
1 1/2 cups fresh or frozen (thawed) raspberries
1/4 cup maple syrup
3 cups cream (preferably raw)
3 egg yolks
1/3 cup maple syrup
1 Tbsp. vanilla
1 Tbsp. lemon juice
Simmer raspberries and syrup in a small pan until raspberries are broken down. Strain out seeds. Chill the raspberry puree in the refrigerator.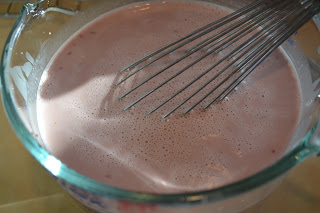 Mix cream, yolks, syrup, vanilla, lemon juice and chilled raspberry puree. Adjust sweetness to taste (taste testing is a great job for kids…Rebecca loves this part :). Process in ice cream maker. I use my Kitchen Aid attachment. It takes about 20 minutes. Store in freezer.