This post may contain affiliate links which won't change your price but will share some commission.
Good (early) morning. Never a fun morning when you lose an hour. And it seems that Abram only listens to the clock…it says 6, he's up. Poor boy has had a rough week. He has been sick all week with a viral throat infection. He had a constant fever for 3 days, a sore throat and an upset tummy. He's finally starting to perk up. But now he's having tummy issues and had a pretty rough night. Needless to say it's been a long week for Mommy and Daddy as well. I "slept" on the floor next to the bouncy seat two nights in a row. Top it off with yet another power outage. So last week wasn't quite as productive as planned, and I had to adjust our schedule and meals each day. By some miracle I still managed to make soaked scones, soaked pie crust, yogurt, mayo, soaked bread, soaked soft pretzels, ice cream, soaked pancakes and 2 pairs of baby legs. I also did a lot of cleaning in the kitchen. Rebecca and I got our hair cut. We met some friends at the library to chat and play for a bit on Wednesday. I had to postpone my Harvest Health trip all week. Rebecca and I went yesterday afternoon while Justin and Abram stayed home. It was a special trip for Rebecca because we stopped at Target first so she could pick out a Lego. She went 30 days without sucking her thumb! She was very excited.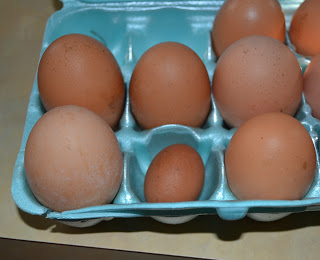 This week will be fairly busy. Today is church (Abram and I will be staying home so he can fully recover and get the rest he needs). Monday is milk pick up. Tuesday is Kindermusik. Wednesday is Meijer. We will also be doing something for my birthday, but I haven't figured out what yet 😛  Either go out for dinner or get take out probably. It's supposed to be quite warm this week so hopefully we can spend some time outside. Maybe we'll do a picnic 🙂  Thursday Justin will be going out for dinner with work. Friday is MOPS. Saturday is swimming. This weekend is also a big 2nd hand sale, so I might go to that Thursday, Friday or Saturday.
No huge plans in the kitchen this week aside from our regular meals. I'll make the usual batch of yogurt. And maybe more ice cream. I'm also trying to think of some kind birthday treat…that is healthy and "safe" for me. Maybe ice cream. Maybe a pie w/ soaked crust. Not sure. And I got a bunch of nuts yesterday, so I have to soak and dry those. I also finally got some rye flour. But I think I'll hold off on starting a sourdough this week. I want to have plenty of time to go outside and enjoy the warm weather 🙂
I think we are going to redo the letter Y this week. Since Abram was sick last week our day revolved around him. He mostly wanted to be held.
I'm do so-so right now. Last week I started getting back on track. But then I made some bad choices. I learned for sure (for the millionth time!) that my body CAN NOT HANDLE CORN OR BANANAS. Not even a little bit. Even one tiny bit of banana completely shuts down my digestive system. I think it has something to do with the starch content. Bananas, potatoes, corn, rice. They just don't work for me. I guess I have to stick with wheat 🙂  I'm on the anti-gluten free diet 😛  Seems strange. But it works for my body. I'm also learning that I do a lot better when I eat really salty food and avoid sweets. If I eat a really salty breakfast I'm warm all morning. If I eat something sweet (so much for my ice cream for breakfast 🙁 then I'm freezing cold by mid morning. I've been eating some salty veggies and soaked toast w/ butter and salt the last few days. That seems to work well. I'm also trying to figure out the proper fluid intake for my body. I think I've actually been drinking too much water for years. I think I was overtaxing my kidneys and my liver. So I've been trying to cut back a bit and keep my electrolytes in balance. And try to eat salty foods when I drink. I have made a few homemade "gatorade" type drinks (combo of juice, water and salt). But I'm just not a fan of them. I've never liked sports drinks. Any hint of salt makes my stomach churn. So I try to eat a little bite of some really salty food with a drink instead.
Unfortunately it seems that Abram may be sensitive to bananas as well. While he was sick he had pretty loose bowels. So I made him a banana smoothie to see if it would help slow things down a little. He ate quite a bit of  it yesterday. And has had a tummy ache ever since 🙁  I feel awful seeing him suffer through so much gas pain. I know how painful it can be. It was a rough night, and he's still working through it this morning. I guess I'll be tossing the rest of that smoothie 😛
That's enough updating for now. I'm trying to deal with this grumpy little guy, and Rebecca has to get up soon to go to church early with Justin. Here's what's on the menu for now. We'll see what this week brings.
——————
S (prep dinner, church, prep smoothies, grind flour, soak nuts)
  B – leftover quiche, toast
  L – goulash, garlic toast, brussels sprouts (Justin), leftover sausage, beans, soaked bread (me)
  D – salmon salad sandwiches, peas, fruit
M (boil eggs, dry nuts, milk)
  B – smoothies, breakfast cookies
  D – pork chops w/ dried fruit over rice, roasted squash, sauteed kale
T (skim cream, KM)
  B – hard boiled egg, toast, fruit
  D – pumpkin pasta, roasted brussels sprouts, liverwurst
W (soak flour, make pudding, Meijer, birthday, park, take out)
  B – yogurt, granola, fruit
  D – take out – The Green Well
Th (make bread, make yogurt, soak flour, make hot fudge, JBF, make ice cream?)
  B – cold cereal w/ milk
  D – Justin out to eat; liverwurst/eggs/misc. (me)
F (make kefir, clean, MOPS, make graham crackers)
  B – smoothie, TBD
  D – eggs (scrambled or fried), bread pudding, squash
S (make pesto, swimming)
  B – TBD
  D – cauliflower bake, beans