This post may contain affiliate links which won't change your price but will share some commission.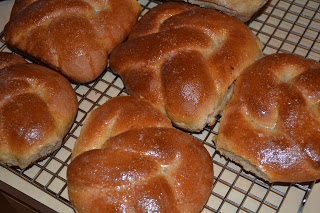 Between a sick baby and a power outage I haven't had much computer time lately. So I'm trying to catch up on posts. Last week I made some soaked whole wheat bread again. But I made a bigger batch of dough and used half of it to make soft pretzels. It was an experiment…and it turned out great! Unfortunately right after I finished mixing the dough the power went out. So I had to roll/shape pretzels in the dark with a crying baby. Not exactly ideal conditions. So I had to be pretty quick and couldn't see that well…and ended up with pretty large pretzels. If I make them again I'll roll them a lot thinner. Regardless they taste great! Slather them with butter and salt right out of the oven. Yum! And they make great bread for a sandwich…a pretzel bun. This is a great snack for me to have on hand…soaked wheat with lots of salt. Exactly what my body needs.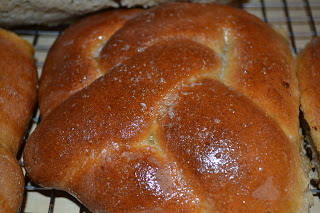 Soaked Soft Pretzels
2 cups whole wheat flour
1/2 cup buttermilk, kefir or yogurt
3/4 cups very warm water
1 egg
1cup organic white unbleached flour
1/8 cup warm/hot water
1/8 cup coconut oil
1 Tbsp. yeast
1/4 cup local raw honey
1/2 Tbsp. sea salt
The day before, add wheat, buttermilk, and water to your stand mixer. Mix just until all the flour is wet. Cover and let set at least 7 hours but 12 or more is even better and you may even have a nice sourdough taste. I usually try to do 24 hours. Soak it one morning. Mix it the next morning.
The next day, or whenever you're ready to finish your bread, add the egg and white flour. Add coconut oil to the hot water (so it melts). Once it's melted, add it in, and start mixing on the lowest speed.
Add the yeast, keep mixing on lowest speed. Add honey and seal salt.
When the dough has cleaned up the sides and middle of the bowl, check how the dough feels and see if you need a bit more water or flour (you'll know if it feels too dry or wet), and then set the timer for 14 minutes and continue mixing on the lowest speed.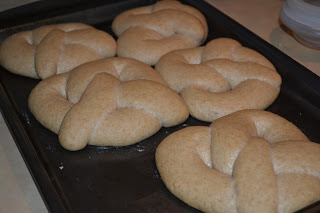 Meanwhile, butter two baking pans. When the dough is done, use buttered hands to split it into 10 equal pieces. Roll each piece into a long string. Shape into pretzels. Place on baking sheets.
The rise time depends on the temp in your kitchen – usually 2-3 hours. Bake at 350 degrees for 20-25 min.
When you take them out of the oven, brush them with butter and sprinkle with sea salt. Be sure to add plenty of salt or you might be like me and have a three year old telling you "I desparately need more salt." Place on a rack to cool…or devour immediately 🙂