This post may contain affiliate links which won't change your price but will share some commission.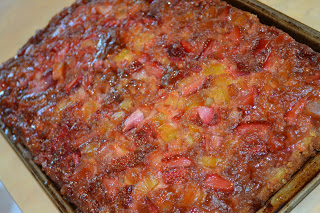 We got strawberries and rhubarb at the farmer's market this week. A great combination for a spring dessert. Justin asked for a pie. But Rebecca insisted that we make a cake. She won 🙂  I did a quick search for a recipe yesterday morning and found one that looked good from Betty Crocker. It's strawberry rhubarb upside down cake. I've never made any kind of upside down cake. But this looked good.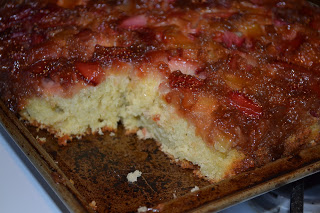 This turned out to be quite simple to make. And it tastes great!!! All four of us really enjoyed it. I modified the recipe since I don't use boxed cake mixes. I made a modified version of my usual white cake (also a Betty Crocker recipe).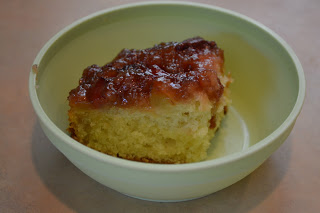 If you're looking for a new way to use rhubarb and strawberries give this is a try! I know I'll be making it again. Serve it with homemade vanilla ice cream, and it's a perfect summer treat.
This post is linked to Fat Tuesday.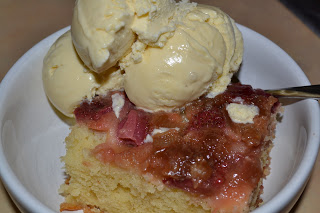 Strawberry Rhubarb Upside Down Cake
1/4  cup butter
1 cup packed organic brown cane sugar
2 cups sliced fresh strawberries
2 cups chopped fresh rhubarb
2 1/4 cups organic AP flour
1 2/3 cup organic cane sugar
2/3 cup palm shortening
3 1/2 tsp. baking powder
1 tsp. sea salt
1 tsp. organic vanilla
3 eggs
Whipped cream or homemade vanilla ice cream, if desired
Heat oven to 350°F (325°F for dark or nonstick pan). In 13×9-inch pan, melt butter in oven. Sprinkle brown sugar evenly over butter. Arrange strawberries on brown sugar; sprinkle evenly with rhubarb. Press strawberries and rhubarb gently into brown sugar.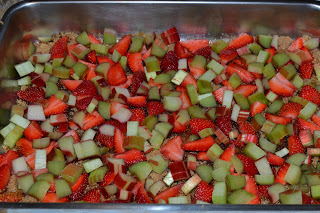 In large bowl, beat cake ingredients with an electric mixer on low speed 30 seconds, then on high speed 2 minutes, scraping bowl occasionally. Pour batter over strawberries and rhubarb.
Bake 50 – 60 minutes or until toothpick inserted in center comes out clean. Immediately run knife around sides of pan to loosen cake. Place heatproof serving plate upside down on pan (I used a small baking sheet); turn plate and pan over. Leave pan over cake 1 minute so brown sugar topping can drizzle over cake. Cool 30 minutes. Serve warm or cool with whipped cream or ice cream. Store covered in refrigerator (I froze half and put half in a tupperware in the fridge).