This post may contain affiliate links which won't change your price but will share some commission.
Last week I made one final strawberry rhubarb dessert. I made a pie to bring to a family gathering. Instead of a traditional pie I made it similar to Dutch Apple Pie with a crumble topping. It was a big hit with everyone. So good! I might have to make this every summer.
This post is linked to Real Food Wednesdays, Fat Tuesday, Fresh Bites Friday and Fight Back Friday.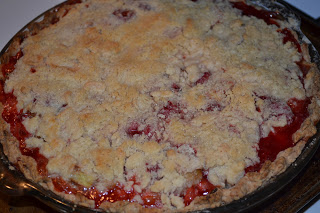 Dutch Strawberry Rhubarb Pie
Pie Crust:
1 1/4 cups all purpose flour (or whole wheat)
1/2 tsp. salt
1/3 cup + 1 Tbsp. palm shortening or cold butter
1/8 cup + 2 Tbsp. water w/ 1/2 tsp. vinegar
Filling:
2 1/2 cups rhubarb, chopped
2 1/2 cups strawberries, chopped
4 Tbsp. organic cornstarch
3/4 cups organic cane sugar or sucanat
1/2 tsp. cinnamon
Topping:
1/2 cup organic cane sugar or sucanat
3/4 cup flour (AP or whole wheat)
1/3 cup butter, chilled
——————————
Prepare the crust:
In a food processor combine the flour and salt. Add half of the shortening. Pulse. Add the other half. Pulse. Add water + vinegar and pulse until a ball of dough forms. Roll out dough and place in 9″ pie pan.
(You could also do a soaked crust.)
Prepare the filling:
Mix the cornstarch, sugar and cinnamon. Sprinkle 2 Tbsp. of  over the bottom of the pie crust. Mix remaining mixture with the fruit. Pour into pie pan.
Prepare the topping:
Mix the sugar and flour. Cut in butter until crumbly. Sprinkle over top of pie.
Bake at 400 degrees for 50-55 minutes. Let cool completely before slicing.