This post may contain affiliate links which won't change your price but will share some commission.
Happy Sunday. It's the start of another hot week here. It'll be a busy one, too.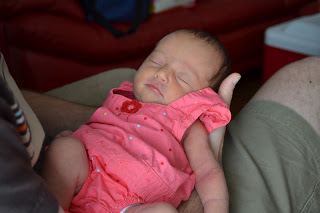 Last week we had quite a bit of down time. It was nice. Yesterday we made a trip east to meet our new niece, Bristol. Such a precious little baby! Seeing her, my "baby" definitely doesn't look anything like a baby 😛  Congratulations, Kevin and Sara and big brother Carson!!!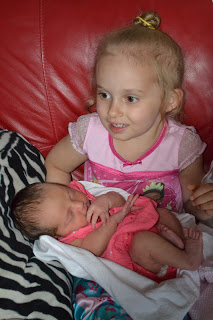 We have something going on every day this week. Last week Rebecca started dance/gymnastics (which she loves!). This week she also starts swimming. So that will keep us busy. Today is church. Monday is swimming in the morning and dance in the afternoon. Tuesday is swimming and farmer's market. Wednesday is swimming. Thursday is swimming, and I'm taking a yoga class. Friday we have someone coming to fix one of our basement windows/put in glass block. Saturday I think Rebecca and I will finally have time for our Mommy/daughter date…just squeezing it in this month. We're going to play mini golf. We'll stop back home to feed Abram/get dinner ready for the boys. Then Rebecca and I will go out for dinner. That's it for now. We might go to the library one afternoon. Rebecca is really taking off with her reading, so I'd like to get some early reader books for her. There is also a chance we could have a park playdate one afternoon.
It doesn't look like we'll have as much time in the kitchen this week. Last week I made two kinds of pesto, kefir, butterscotch ice cream, strawberry raspberry freezer jam, brownies, two salads for our get-together, a meal for my brother/SIL and froze strawberries. This week I need to use my sourdough. I might make banana or zucchini bread with it. I just finished my soaked graham crackers, so I might make another batch. I want to make more sour cream. And possibly butterscotch sauce and/or ice cream. I might make a batch of homemade noodles. And we'll see what produce the market has this week. Last week cherries were $8 a quart! So I don't plan to freeze cherries this year 🙁  I think that's about it.
No big updates on me. Just taking things one day at a time. I did stop taking my probiotic again. Always experimenting 🙂  Like I've said before…if something isn't working, try something else. At the moment I can't tell that the probiotic is having any significant impact. I have committed to eating some cultured food daily instead. See how it goes. And I'm still enjoying ice cream for breakfast once in a while in this hot weather 🙂  Here's what's on the menu.
——————
S (church, make broth, make kefir)
  B – maple pecan scones, fruit salad
  L – cp roast chicken, baked potatoes, beans
  D – sloppy joes, quinoa salad, fruit salad, milkshakes
M (strain/freeze broth, swimming, dance, strain kefir, prep smoothies)
  B – yogurt, maple pecan scone
  D – (prep ahead) – pasta fagioli soup w/ sloppy corn muffins (from freezer)
T (skim cream, make sc, soak flour, make kefir, swimming, FM, make ic)
  B – smoothie, baked oatmeal
  D – chicken pesto paninis or avocado chicken salad sandwiches, zucchini fries, chips
W (make sd banana bread, make soaked grahams, strain kefir, swimming, playdate)
  B – sd banana bread, fruit
  D – RR – rice balls, beans, tbd
Th (make pesto, sewing, preserve produce?, swimming, library?, yoga)
  B – smoothie, TBD from freezer
  D – (separate) – pulled bbq chicken sandwiches, roasted potatoes and carrots
F (sewing, make yogurt, glass block, library?)
  B – sd english muffin w/ jam and pb
  D – salmon egg cups, sd banana bread, squash
S (mini golf/out to eat)
  B – TBD
  D – leftovers or TBD / Rainbow Grill