This post may contain affiliate links which won't change your price but will share some commission.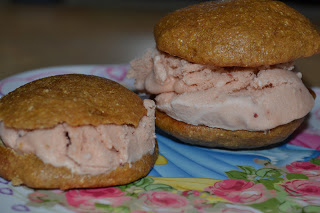 It's summer…and it's HOT. It might even be in the 100s today. It hasn't been that hot in Michigan in a long time. When it's hot the best thing to eat is ice cream 🙂  And sometimes it's nice to have an ice cream treat…that isn't filled with chemicals and vegetable oils. Yesterday Rebecca and I created a homemade ice cream sandwich. I used my basic vanilla cookie recipe and created a banana cookie. This cookie is ideal because it stays very soft. It's even easy to eat when frozen. And it just so happens that we made a big batch of strawberry ice cream on Tuesday. Put them together and you've got a unique, healthy ice cream treat that you won't find in any box.
The ice cream sandwiches turned out great! Rebecca scarfed one down for snack last night. I would even feel good about serving them for breakfast 🙂  They are perfect for adults, kids and even the littlest in the family. Abram (13m) loves homemade ice cream and really enjoyed these cookies as well. They are soft enough that he can easily chew them. This is just one variation of many I hope to try!
I also cut open a cookie and put peanut butter on it like a sandwich as part of Rebecca's lunch yesterday. She really enjoyed it.
This post is linked to Fat Tuesday, Real Food Wednesday, Fight Back Friday and Fresh Bites Friday.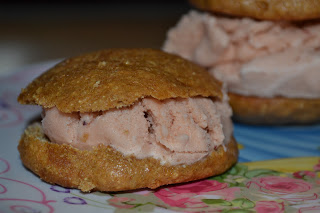 Strawberry Banana Ice Cream Sandwiches
Cookie:
1 cup whole wheat flour
3/8 cup rapadura
2 Tbsp. honey
1/2 cup mashed ripe banana
1 egg
1/4 tsp. baking soda
1/4 tsp. salt
1/2 tsp. vanilla
1/2 tsp. cinnamon (optional)
Ice Cream:
1 cup strawberries
2 1/2 cups cream
1/2 cup maple syrup or honey (or a combination)
1 tsp. vanilla
3 egg yolks
————————————————
Prepare the ice cream:
Blend all ingredients together. Process in ice cream maker (mine takes about 20 minutes in my Kitchen Aid attachment). Store in container in freezer.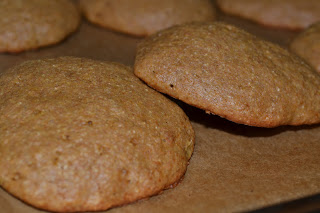 Prepare the cookies:
Heat oven to 425. Stir all ingredients together. Drop by spoonful (big scoops if you want big ice cream sandwiches) onto baking sheet. Bake 8 minutes. Let cool completely.
Assemble sandwiches:
Let ice cream soften slightly. Cut open a cookie*. Place a scoop of ice cream on the bottom half. Top with other half of cookie. Place on a wax paper lined baking sheet. Repeat for remaining cookies. Place in freezer. Once ice cream is solid wrap each sandwich individually in plastc wrap, wax paper or parchment paper.
*If you want really big ice cream sandwiches you can do a full cookie on bottom and top. You can also make smaller cookies for mini ice cream sandwiches that are perfect for kids or a small treat for adults.
Ice cream sandwich variations:
Chocolate cookies (omit banana, reduce flour to 3/4 cups, add 3 Tbsp. cocoa and 1/8 cup milk) with peanut butter, chocolate, mint , cookie dough or vanilla ice cream.
Vanilla cookies with chocolate, vanilla, caramel, cookie dough or strawberry ice cream.
Cinnamon cookies with vanilla or pumpkin ice cream.
Banana cookies with chocolate or peanut butter ice cream.