This post may contain affiliate links which won't change your price but will share some commission.
It's time for this's week's Rebecca's Recipe. Rebecca decided to have rice balls for dinner. I've never made or eaten a rice ball. But it sounded good. We came up with a very simple recipe that actually was really good! Even Justin really enjoyed them. They are basically a combination of rice, cheese, egg and seasoning. You can dip them in pretty much anything (salsa, spaghetti sauce, honey mustard, ketchup, pesto…whatever) or eat them plain. They are delicious either way. You can add variety by using different cheeses. I used garlic and onion last night. A sharp cheddar or parmesan would be great too. They reheat very well. I'll make these again for sure! Another winning recipe from my little chef 🙂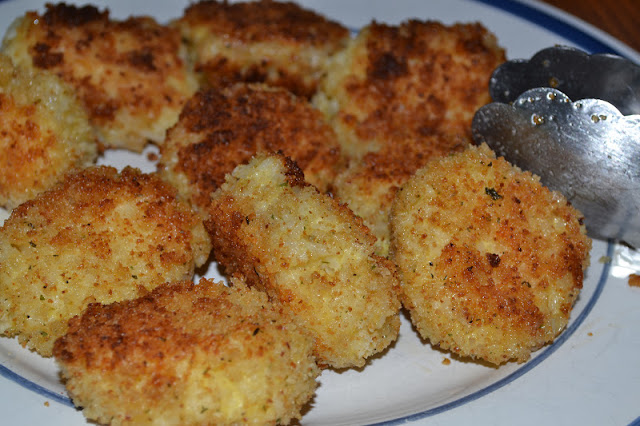 Rice Balls
1 cup cooked rice (I used white rice since I'm experimenting with how my tummy handles it…you could use any kind of rice you like)
1 egg
1/2 cup finely grated cheese (I used garlic and onion)
seasoning of choice (I just used salt + the seasoning in my bread crumbs)
bread crumbs (use gluten free bread crumbs to make this gluten free)
oil for frying (I used coconut oil)
Cook rice and let cool partially (or cook the rice ahead of time/use leftovers and warm it slightly). Add egg, cheese and seasoning. Mix well. One at a time roll a small portion into a ball and cover with bread crumbs. They will be fragile, so I found it easiest to sprinkle the breadcrumbs over the rice ball in my hand and gently lay it in the pan.
Cook in hot oil (enough to cover the bottom of the pan) in large skillet. Cook over medium heat on all sides until golden brown, about 15 minutes total. Serve plain or with dipping sauce. They would also be good on a salad.