This post may contain affiliate links which won't change your price but will share some commission.
Another steamy morning here to start off the holiday week. Our schedule will be a bit crazy to start the week as well. I hope we're up for the heat and the chaos 😛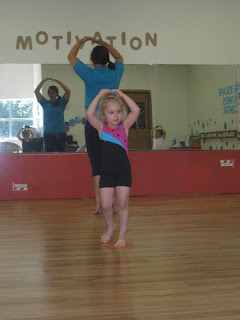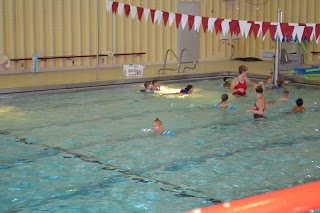 A few updates from last week…I finally got around to sewing Rebecca's doll dress. I've had the fabric since February! I finally made time to work on it this week. I started on Thursday…and finished it on Saturday. Not bad. Hopefully I can get started on Rebecca's matching dress right away instead waiting 4 months 😛  Rebecca and I also finally had another Mommy/daughter date. We went mini golfing, stopped at a Christian bookstore to pick out a new book and went to dinner. We shared our dinner, had our usual butterscotch milkshake and read part of her new book. We had a great time. But note to self – never again order the fried fish at the Rainbow Grill. I don't think I've ever reacted that strongly that quickly to food. It took an hour or so for the nausea and stomach cramps to subside. I'm guessing most of the food I ate had soybean oil. Anything with soy, even small amounts, are killer on my stomach. Hopefully today won't be too rough. Just goes to show that vegetable oils are NOT good. We had a playdate and went to the park twice. Plus we had swimming four mornings and dance one day. We tried to go to the library twice, but it was closed both times (once due to building problems, once b/c we were too late). I made it to one yoga class…I sure needed that! In the kitchen last week I made pesto, strawberry ice cream, strawberry banana ice cream sandwiches, chicken broth, kefir, yogurt, sour cream, sd banana bread and soaked grahams. Whew. I guess we were busy.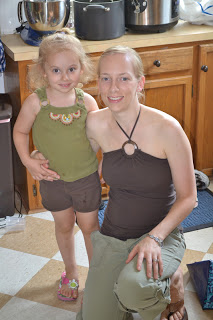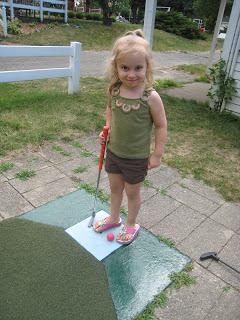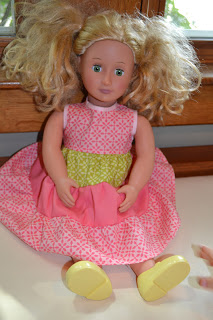 On to this week. Today is church. Monday will be a doozy. We have swimming. Right from there we'll go get milk. In the afternoon we have dance. We'll get home, have dinner and then someone is visiting right after dinner. Tuesday morning we have farmer's market and swimming. Wednesday we'll go to the 4th of July parade and the craft show. We'll watch fireworks from our porch like always. Rebecca says she wants to hear them from in the house. We'll see if we just put her to bed or try to get her to watch. Thursday will be grocery shopping. Friday Justin has vacation. Not sure if we'll do anything. I'm hoping we can make it to the library this week too. And possibly another yoga class.
No big kitchen plans. We'll see what produce is available/if I need to preserve anything. Maybe I'll freeze some zucchini. I might make a dessert for the 4th. We could use new batches of vanilla ice cream, hot fudge, butterscotch and/or caramel. And I hope to do some sewing.
No major updates on me. I have been doing some research on minerals. I'm wondering if I'm deficient in potassium. So I've been trying to increase my potassium through food over the last week. I think it is also related to magnesium. I haven't been taking extra magnesium for a while. I still need to research more. And I might try to get some testing done so I can stop guessing and really see if my body is lacking anything.
Here's what's on the menu for now.
——————————
S (prep lunch, roast beets, church, prep smoothies)
  B – soaked pancakes, cherries
  L – cp applesauce chicken, scalloped potatoes, peas
  D – leftover pork w/ rice and apples, salad, milkshake (Justin) / restaurant leftovers, salad, milkshake (Rebecca) / salad, smoothie (me)
M (make hot fudge, swimming, milk, dance, visitor)
  B – smoothie, chewy granola bar
  D – (prep/clean up ahead) – chicken lentil soup and sd bread (from freezer)
T (skim cream, make butterscotch, sewing, FM, swimming, library?)
  B – yogurt, TBD from freezer
  D – pan grilled salmon, grilled zucchini, fried potatoes
W (freeze zucchini, make dessert?, parade, craft show, fireworks)
  B – smoothie, TBD from freezer
  D – grill bbq sausage and vegetable skewers, smores?, blueberry dessert?
Th (sewing, Meijer, yoga?, make ice cream)
  B – baked oatmeal
  D – RR – some spin on mac 'n' cheese
F (sewing, library?, shopping?)
  B – yogurt, granola, fruit
  D – zucchinin waffles w/ blueberry topping and whipped cream, fresh fruit
S (clean)
  B – waffles
  D – BLA salad or zucchini avocado shrimp salad or a combo of the two