This post may contain affiliate links which won't change your price but will share some commission.
Good morning. So thankful today for a little break from the extreme heat. We had multiple days with temps in the 100's! Finally last night we were able to open the windows…the house is back into the 70's again. It feels wonderful. Highs only in the 80's at least for the next few days. I never thought that mid 80's would feel "cool."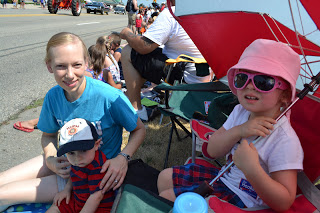 Last week was quite busy with swimming, dance, farmer's market, milk pick up, groceries, holiday events, children's museum, library, out to eat, etc., but we made it 🙂  I even got to go shopping by myself on Friday. Justin watched the kids while I did some sprint shopping…do as much as possible in two hours 😛  I could seriously use an entire new wardrobe. So I had a lot I wanted to get. I only made it to two stores, but I actually got quite a bit. It's tiring to try on so many clothes so quickly 😛  I'm excited now to have clothes that fit and are in style! This week should be a little less chaotic now that swimming is done. Today is church. We are also planning to visit my grandparents and my parents this afternoon. Monday is dance. Tuesday is farmer's market. Wednesday we are probably going to Michigan's Adventure. We'll see how the kids are doing and what the weather is like. Thursday there is a kids event at a local Christian bookstore. We might stop by. I am also going to yoga. No big plans for Friday. If it's a nice day, maybe we'll go to the zoo. Else we'll just have fun at home.
My kitchen work for this week could be a lot or could be a little. It just depends what produce is ready. I think the good blueberries might be at the market this week. If so I'll stock up and freeze them. I'd like to freeze about 40 lbs. this year. I might have to have Rebecca walk home from the market this week to fit all the produce in the wagon 🙂  I froze some zucchini last week. I'd like to do more this week. Our beans are just getting started. Once they pick up I'll be freezing lots of beans. I'd like to make a new batch of soaked graham crackers and a batch of vanilla cookies. Abram really seems to like those. I also need to make sour cream, yogurt and ice cream. Vacation will sneak up on me soon too, so I need to start planning and work on any prep ahead food items like breakfasts and snacks. I might make some soaked bread and buns as well. And possibly some fermented ketchup and fermented lemon punch. It's been a while since I've done any ferments.
I finally got the fabric for Rebecca's dress cut out yesterday. And started sewing this morning. I'm so excited to make her dress. I hope I can find time this week to work on it.
For meals this week I decided to do a theme. This is burger week! Perfect for the middle of summer. I'm doing all different kinds of burgers. Some with meat, some without. Some with buns, some without. Some with typical burger ingredients, some with breakfast foods. Some grilled, some cooked in a pan. A wide range. I'm even considering creating some kind of dessert burger 🙂  I'm doing Rebecca's recipe for our dinner tonight. She said we should make "pancake waffles." We'll see how that turns out 🙂  I also might make one of Rebecca's recipes for her for lunch one day – "burger buns." She likes cheeseburgers…without the burger. Just the bun, cheese, ketchup and mustard.
No major updates for me. One thing I did run into in the last few days…more die off 🙁  I stopped taking my probiotic and started eating cultured dairy daily about 2 weeks ago. That's my grace period of feeling pretty good when I make a big change. Then the die off kicks in and the headaches, acne and slowed digestion start. Hopefully it will be short lived. Maybe I should do a major diet change every two weeks…maybe that would keep my body guessing and working well 😛
I made my meal plans before we made our plans for Michigan's Adventure. So my menu might shift a bit. But here's what's planned for now.
———————————————-
S (food prep, sewing, church, visit family, prep smoothies, grind flour, soak flour, make ketchup?)
  B – toast w/ almond butter, banana yogurt
  L – grill hamburgers, chips, fruit salad, peas
  D – "pancake waffles" w/ cherry topping and whipped cream, bacon, fresh fruit
M (make buns?, soak grahams, dinner prep, sewing, dance)
  B – waffles w/ fresh peaches, fruit salad
  D – bacon avocado pesto chicken burger in lettuce wrap, zucchini fries, peas
T (make grahams, make yogurt, skim cream, make sc, strain kefir, make punch, FM, make cookies?, make ic)
  B – smoothies, breakfast cookies
  D – salmon burgers, fresh corn on the cob, fresh beans
W (prep dinner, freeze corn, prep breakfast, pack, MA)
  B – toast w/ almond butter, banana yogurt
  L – picnic at park
  D – gf double cheeseburgers (bunless), zucchini fries, strawberry or blueberry milkshakes OR beef roast w/ veggies (in cp)
Th (make cookies?, make punch?, make ketchup?, make sd muffins, feed sd, sewing, Bookstore, make cheesecake popsicles, yoga)
  B – smoothies, sd muffins
  D – (separate) – leftover beef roast and veggies
F (sewing, zoo?, training, soak lentils)
  B – sd muffins, fresh fruit
  D – "breakfast burger" – sausage patties w/ egg, bacon and cheese on toast, fresh beans, banana yogurt, fresh fruit
S (clean, cook lentils, sewing, freeze benas, make buns, make snack/breakfast foods?)
  B – sausage, toast
  D – lentil burgers gf double cheeseburgers on squash "buns", squash, fruit