This post may contain affiliate links which won't change your price but will share some commission.
I've been wanting to make a batch of cinnamon rolls for some time now. I haven't made any in years. I finally made some over the weekend. The recipe is from my MIL.
I made a few modifications to meet our standards of healthy. They turned out great!! Rebecca declared them the "best breakfast I've ever had." You can't beat that.
This is really two recipes – a basic sweet roll dough and the actual cinnamon roll. I prepped the dough Friday night, then made the cinnamon rolls Saturday morning. It worked out well.
I made my own version of frosting to top them. Delicious!
This post is linked to Fat Tuesday and Real Food Wednesday.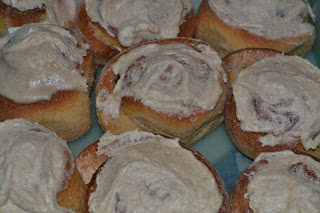 Whole Wheat Cinnamon Rolls
Sweet Roll Dough
2 1/4 tsp. active dry yeast
1/4 cup warm water
1/4 cup lukewarm milk
1/4 cup cane sugar
1/4 cup palm shortening
1/2 tsp. salt
1 egg
2 1/2 cups white whole wheat flour
Cinnamon Rolls
Sweet roll dough
2 Tbsp. butter, softened (room temp)
1/3 cup cane sugar
2 tsp. cinnamon
Frosting
1/4 cup palm shortening
1/4 cup white whole wheat flour (finely ground)
1/4 cup maple syrup
———————————
Dissolve the yeast in the warm water in a stand mixer bowl (or a large bowl if doing it by hand). Mix in milk, sugar, salt, egg, shortening and 1 1/2 cups of flour. Mix until smooth. Mix in remaining flour until a soft dough forms (add extra flour if it's too wet). Knead by hand or with dough hook for about 5 minutes. Pour a small amount of oil on the dough and turn to coat.
At this point you can cover and refrigerate the dough for 3-4 days. Or you can use it immediately.
When you are ready to make the cinnamon rolls let the dough rise until double in size, about 2 hours (it could take longer if it was in the refrigerator…it has to come to room temp before it will rise).
Roll the dough into a 9×15 rectangle. Spread with the softened butter. Sprinkle mixture of sugar and cinnamon over top. Roll up the dough starting with the long side (so it is 15″ long). Pinch the edge of the dough to seal it.
Cut the roll into 15 equal slices.
Place slices flat side up in a greased 9×13 pan, leaving a little space between them. Let the rolls rise again until double (about 45 minutes).
Bake at 375 for 25 minutes.
Allow to cool slightly.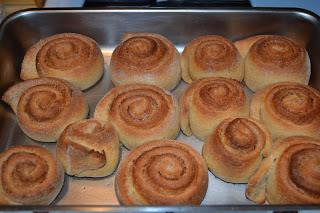 While the cinnamon rolls are baking mix the shortening, flour and syrup to make the frosting.
When the cinnamon rolls are slightly cooled add the frosting on top. Serve immediately.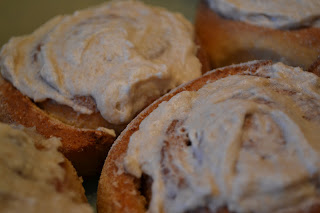 The cinnamon rolls can be frozen before or after frosting them.