This post may contain affiliate links which won't change your price but will share some commission.
Last night we made Rebecca's most recent recipe creation. She called them noodle cream cakes. When I asked her how to make them she said they were chicken sour cream cakes with noodle and bread crumb topping.
They actually turned out quite well. I never would have thought to add sour cream to my chicken cakes…but it was really good! I'll probably do that more often now when I make things like salmon cakes and tuna cakes.
I didn't measure anything. Whenever I make "cakes" I just add and taste as I go. I'll try to give approximate quantities.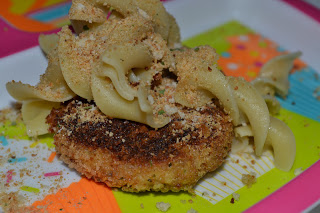 Chicken Noodle Sour Cream Cakes
1 1/2 cups cooked, diced chicken
1/2 cup sour cream (preferably homemade)
1/4 cup mayonnaise (preferably homemade)
2 egg yolks
1/3 cup bread crumbs
salt, garlic powder, herbs to taste
bread crumbs to coat
cooked noodles (we used egg noodles)
butter, salt, garlic powder (optional for noodles)
seasoned bread crumbs for topping
Mix chicken, sour cream, mayo, yolks and bread crumbs. Add seasoning. Add more sour cream (if too dry) or more bread crumbs (if too wet) to get a thick mixture. Adjust seasoning to taste.
Form meat mixture into patties. Coat with bread crumbs. Cook in hot oil (coconut oil, butter, lard) in skillet over medium heat until golden brown, about 6 minutes per side.
While chicken cakes are cooking, cook the noodles. You can serve them plain. I added butter, salt and garlic powder.
Serve the chicken cakes topped with noodles and a sprinkle of bread crumbs.