This post may contain affiliate links which won't change your price but will share some commission.
We made it through our first week of fall chaos. I think we all survived. Although Rebecca was so worn out by the end of the week. Friday she went to her room for a little quiet time before dinner. I called her at dinner time…and got no answer. She was out cold 😛  This is my girl that NEVER naps. Poor thing. We're still adjusting to the school routine, but Rebecca loves going. That makes it easier on everyone.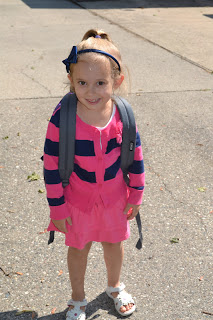 I had another good appointment with my psychologist. We have some new things to try with Rebecca now.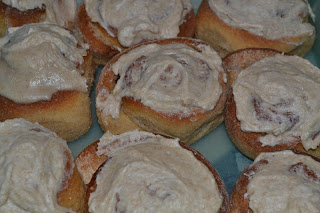 I also had some fun in the kitchen. And I have quite a few recipe posts to catch up on.
From here on out we'll be very busy I think. Justin is getting more involved with music at church, and he'll be starting orchestra rehearsal soon too. I've also got some extra events coming up.
Today is church. Monday is preschool. Tuesday is farmer's market and Kindermusik. And possibly more nutritional testing. Plus I'm finally going to a West MI Bloggers meeting! I can only stay for the first hour, but I'm looking forward to it. Wednesday is preschool, co-op pick up and Justin's first worship team rehearsal. Friday is our first day of Mom Break (formerly MOPS). I'm not sure how that will go since Abram still does not really handle nurseries well. We'll see. We also have preschool.
I have a lot I would like to do in the kitchen this week. Plus on top of all the stuff I had planned we went to the orchard yesterday and stocked up on apples and some squash. So now I have to work on canning and freezing that. Here is my list of things I'd like to make. I'm sure I won't get to all of them, but I'll give it a try: yogurt, fermented punch, smoothies, kefir, sour cream, homemade noodles, broth, sd english muffins, bagels, cookies, cream cheese and graham crackers. Plus make and can applesauce and bake and freeze squash. I didn't get as much sewing done last week as I had hoped. And from the looks of it I won't have much time for it this week. I really would like to keep working on it (I'm finally at the fun part…the actual sewing!) but it's not a priority.
Not too much to report on myself. I tried a new supplement…and stopped it. It didn't seem to be helping. I'm taking note of some more acute sensitivities. I'm realizing just how sensitive I am to nuts…even a small amount…even pureed (a little almond butter sandwich last week was not the best choice :\ ). Boy was I in pain the next day. So it must be the composition of the nut and not the texture. For me nuts = severe inflammation of my entire body. I'm also noticing that I can't have anything with soy lecithin. I know I react strongly to soy. I don't make anything with soy, and we don't eat much packaged food. Just little things here and there. I guess even that little amount once in a while is tough for me. The only two things this really makes me sad about are chocolate chips and ice cream cones. I really need to find a good source for quality cocoa and chocolate chips that don't have soy. And I need to keep working on perfecting homemade ice cream cones 🙂  New project…
I'm also becoming more and more suspicious of egg whites. Which is so sad. I LOVE eggs. But I'm wondering if I have a hard time with the whites the same way I do with muscle meats. It's a tough protein to break down. Thankfully I think I still do well with egg yolks (especially raw)…which is the best part. But we eat egg dishes all the time. And I don't want one more thing I "can't" eat. But every time I make quiche or egg casseroles I have a hard time. And was always confused since eggs were on my good list. There wasn't anything I could think of really that would cause problems except maybe the milk. Then we had poached eggs on Friday…and Saturday morning already I was not doing well. And there are no extra ingredients in those…just eggs. I can add 3 or 4 yolks to something I'm eating and do just fine. But if I have something with the whole egg it doesn't go so well.
I've also been thinking back and trying to remember if there was ever a time that my digestive system functioned well. The only time I can think of is high school (I say "well" in relative terms). The major dietary difference I had back then was that I ate extremely low fat. I don't consider a low fat diet to be a good one. But knowing that I likely have gallbladder problems I struggle with digesting fat. So I'm going to try to tone down on it a bit. I want to clarify that I'm not planning to eat low fat. I just need to cut back since my diet in general is very high in fat. See if that helps at all. I may also try switching to refined coconut oil instead of unrefined. I think that maybe be bothering me too.
On to the menu for this week. I'm sure some things will change as I figure out what I do and don't have time for. And I might try to swap in a Rebecca recipe.
———————
S (make yogurt, prep lunch, church, make ice cream, prep smoothies, make kefir)
  B – cinnamon rolls
  L – cp bbq chicken and sweet potato corn medley
  D – leftover cream cakes, leftover pea soup, veggies, fruit
M (soak beans, bake/freeze squash, prep dinner, PS, make applesauce)
  B – smoothie, granola bar
  D – cp roast chicken, rice, roasted brussels sprouts and cauliflower
T (skim cream, make sc, strain/freeze broth, prep dinner, can applesauce, FM, KM, NT?, WMB, soak flour)
  B – yogurt, fruit, granola
  D – (separate) – cp chili, crackers w/ cheese
W (make sd muffins, make noodles, PS, co-op, WT, make cream cheese)
  B – smoothie, tbd
  D – (eat whenever) – chicken noodle soup, sd muffins
Th (make bagels?, make cookies?, make applesauce)
  B – sd english muffin
  D – taco cheesecake
F (can applesauce, MB, PS)
  B – bagels
  D – yogurt, pancake sausage muffins, fresh fruit, peas
S (make graham crackers, make cheese ball, clean)
  B – pancake muffins
  D – chocolate chip cheese ball w/ graham crackers, sausage, fresh fruit, beans