This post may contain affiliate links which won't change your price but will share some commission.
Lately we are going through our weekly milk so quickly. We get 3 gallons every Monday. By Sunday we are just getting by. And that is without using it for anything extra, like ice cream and yogurt. So I haven't been making much of either lately.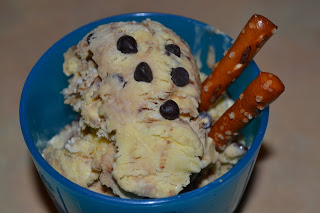 Last week we were gone half of the week. So I could finally use some of our yummy raw cream for ice cream. Rebecca and I brainstormed flavors. We decided to do a play on chocolate covered pretzels. We used pretzel pieces and mini chocolate chips. Plus a little swirl of homemade fudge.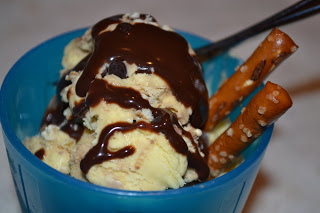 We also brainstormed fun names and came up with sticks (pretzels) and stones (mini chips). It's a fun ice cream name. And a delicious ice cream!! I love my salty/sweet combos. Some runner up names were mud puddle (because of the fudge swirl) and sky tree (Rebecca's name :).
I debated about posting the recipe since it's not really much new. But it was too fun not to. We love creating new flavors of ice cream and coming up with fun names.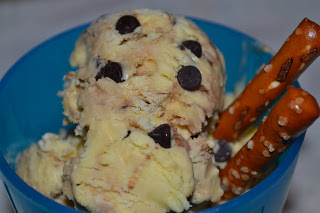 Sticks and Stones Ice Cream
3 cups cream (preferably raw)
4 egg yolks (you can make it with as many as you like or leave them out)
1/4 cup honey
1/3 cup maple syrup
2 tsp. organic vanilla
1/3 cup pretzel pieces (as big or as small as you like)
1/3 cup mini chocolate chips (I use soy free, dairy free, egg free chips)
1/3 cup fudge sauce (optional)
Combine cream, egg yolks, honey, syrup and vanilla in a blender until well mixed. Check sweetness. Add more honey or syrup if necessary. It should be a little overly sweet since the sweetness goes down after the ice cream is processed.
Process in ice cream maker according to directions (mine took 10 – 15 min.). Transfer ice cream to a freezer safe container. Mix in the pretzels and chocolate chips until evenly distributed. Gently swirl in dollops of fudge sauce (don't mix it in thoroughly or it will turn into chocolate ice cream). Store in the freezer.