This post may contain affiliate links which won't change your price but will share some commission.
About a year ago I was experimenting with all kinds of soaked recipes. I tried making Adrienne's soaked whole wheat donuts. They were really good.
But then I forgot about them.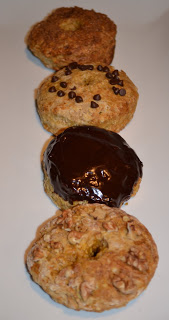 Last week I was playing with my kids with their pretend food/dishes. Rebecca had a donut on her plate, and we were brainstorming baking projects (real ones). So we thought it might it might be fun to make real chocolate covered donuts.
So I did.
And they turned out great!!
These donuts reminded me of my childhood. When we got donuts (which was a rare thing) I always got chocolate covered…and so did my siblings 🙂  One bite brought me back to my youth.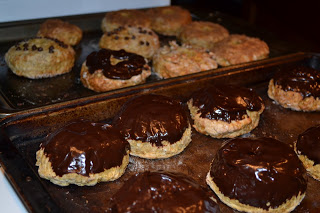 I used the same base recipe and adjusted it a bit so I can tolerate them. Then I made my own chocolate topping.
This is a delicious, warming breakfast treat. You can make them as large or as small as you like. You can make full donuts or donut holes. You can glaze the top or cover them entirely in chocolatey goodness.
You can make other flavors as well. Coat them in chopped crispy nuts. Mix in mini chocolate chips. Or go for the original cinnamon sugar.
Do you like having a donut for breakfast sometimes?  Just because you want to eat Real food does not mean you have to give them up. Just go for a healthier, easier to digest, homemade version.
What is your favorite donut flavor?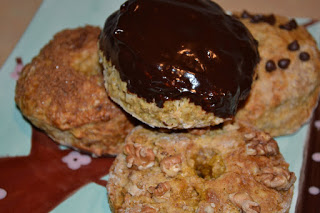 Soaked Chocolate Covered Donuts
dairy free options
4 1/2 cups whole wheat flour
4 tsp. baking soda
1/2 tsp. salt
1/2 tsp. nutmeg
1 tsp. cinnamon
3 egg yolks
2 Tbsp. milk or water
1 cup organic cane sugar or sucanat
5 Tbsp. butter or coconut oil, melted
1 cup sour milk, buttermilk, kefir or sour milk substitute. (combine 1 Tbsp. vineager or lemon juice + milk to equal 1 cup to make sour milk)
Donuts:
Combine the flour, sugar, fat and cultured/soured liquid. Let the dough rest for 12-24 hours. Add the remaining ingredients and mix well.
Roll out dough to approximately 1/2″ thickness. Cut out donuts with cutter, ring or shape into desired shapes.
Bake on an ungreased baking sheet  at 425 degrees for 8-10 minutes. Allow to cool.
Topping:
1 cup chocolate chips (I used soy free, dairy free, nut free, egg free)
1/4 cup milk or milk substitute
3 Tbsp. organic all purpose flour (or arrowroot or cornstarch)
Melt chocolate chips in a double boiler (glass bowl on top of a pot of simmering water). When all of the chocolate is melted slowly stir in the milk and flour. Mix until smooth. Remove from heat.
Dip the cooled donuts in the warm chocolate.
Store donuts in an airtight container at room temperature for short term storage. Store in a freezer for long term storage.