This post may contain affiliate links which won't change your price but will share some commission.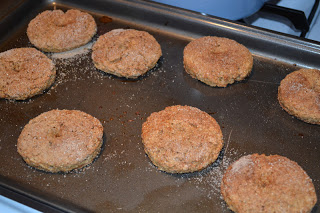 Yes, it's another new soaked recipe from the Kitchen Stewardship e-book. Can you tell I'm enjoying experimenting with soaked grains again? 🙂  This recipe comes from Adrienne at Whole New Mom. I've never actually made donuts before. It's been on my things to try list for a long time. These looked easy…and soaked 🙂  They turned out quite well. Obviously they are not like the doughy fried things you'd get at Dunkin Donuts. But they are good. Moderately sweet. A touch of cinnamon. Yum! All 3 of us really enjoyed them. And they really are super simple to make. Maybe I'll try turning them into a nutty version next time. Or even make some kind of glaze. It'll be fun to experiment. I love having a treat like this that I can feel good about feeding my family. For a bedtime snack last night Rebecca had a little pudding and part of a donut. That sounds awful. But in reality it was a very healthy snack…raw milk, egg yolks, soaked whole wheat…can't beat that 🙂  I only made a half batch and got 16 donuts out of it. I used a juice glass to cut the donuts and then just made the hole with my finger.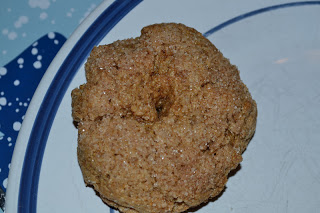 Soaked Cinnamon Sugar Donuts
4 1/2 cups whole grain flour (use 5 1/2 if using spelt)
4 tsp. baking powder
1 tsp. baking soda
1/2 tsp. salt
1/2 tsp. nutmeg
1 tsp. cinnamon
2 eggs
1 cup granulated sweetener (I used organic cane sugar)
5 Tbsp. coconut oil, melted
1 T apple cider vinegar or lemon juice added to milk or milk substitute to make a total of 1 c liquid)
3 Tbsp. granulated sweetener (I used organic cane sugar)
1 tsp. cinnamon
Combine the flour, sweeteners, fats, and liquids together (excluding the eggs). Let dough rest for 12-24 hours. Add remaining ingredients and mix well.
Roll out dough to approximately 1/2″ thickness. Cut out donuts with cutter, ring or shape into desired shapes. Brush tops with melted coconut oil, milk, milk substitute, or water. Sprinkle with topping.
Bake at 425 degrees for 8-10 minutes.
———————————————-
You may find that you need to be flexible with the amount of flour that you use for this recipe depending on the grain that you choose. You will want a very stiff dough that is not wet at all, like a shortbread. For spelt, you will probably need about 5 1/2 cups.
For gluten-free flours, use 25% more baking powder and soda. I typically use whatever I happen to have on hand. Yesterday I used 3 c sweet brown rice flour with 1 1/2 cups sorghum with success. I had to increase the liquid to about 1 1/2 cups to make it pliable, however.
For a sugar free version, a mixture of 1/2 xylitol and 1/2 erythritol for the granulated sweetener works great.
Non-soaking Method:
Just mix the dry ingredients in one bowl and the wets in the other. Then add the dries to the wets. Continue with the recipe directions.